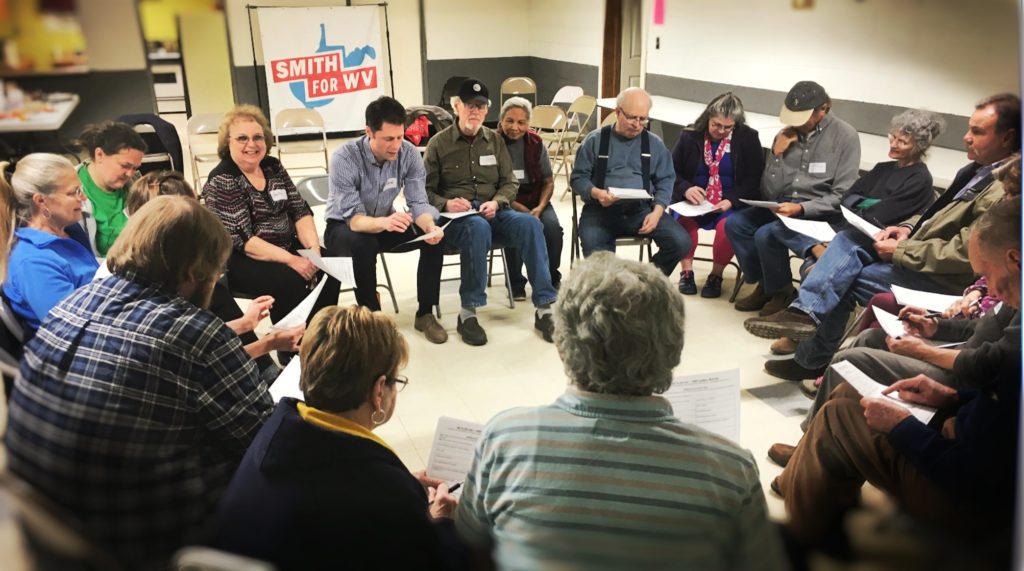 For most families, the West Virginia economy has spent four decades in free fall. Compared to our grandparents' generation, there are fewer jobs. Those jobs pay less. They are harder to get and harder to keep. West Virginia workers are more productive than ever. In fact, this is the wealthiest time in our history. But our wealth ends up in the pockets of executives at Frontier, Rockwool, Patriot Coal, Wal-Mart and a hundred other out-of-state companies–instead of our own. It is no wonder that suicide, divorce, mental illness, and drug overdose death rates are all at or near historic highs. We face not just an inequality of wealth and opportunity, but an inequality of pain. The people who have the most bear the least. And the people who have the least, bear the most. If we do nothing, our kids' generation will be the first not to outlive their parents. 
For generations, the rich have asked us to put our faith in them. It never works. We will only win the change we need by putting our faith in ourselves. And we know this. We will not win by trying to make the Good Old Boys Club accept us. Instead, we must be brave. All of us. No politician led the mine wars. No politician led the educators strike. Workers did. Months before the strike, teachers started going up to the capitol to begin their fight. When the teachers were told by politicians on both sides of the aisle that winning a 5% raise was impossible, that PEIA funding was impossible, they did not give up. They fought harder. They risked more. Instead of compromising or retreating, they chose sides and prepared to fight. They chose the side of teachers, cooks, bus drivers, parents, and students–against for-profit education companies. And in the end, they changed what was possible.
The document we have ratified is the boldest state platform in modern American history. Bar none. It consists of more than 100 pages, 32 separate plans, north of 250 policy recommendations. It is a detailed plan for how we shift wealth and political power back to the people of our state. In the government we win, more than $2 billion will return to our land, our neighborhoods, our local businesses, and our pocketbooks–per year. In the government we win, surface owners and farmers will lead the DEP. Union workers and small business owners will lead the Department of Commerce. Foster parents, people with disabilities, veterans will run the Department of Health and Human Resources. Government will no longer be led by lobbyists and bureaucrats. It will be led by people like you and me. 
To win this government, we must do what the teachers and school service personnel have done. We must do what Bill Blizzard and Sid Hatfield and Mother Jones did a century ago, during the Mine Wars. We must do what our state's founders did when they set up camp in Wheeling more than 150 years ago and founded their own Virginia.
We must choose to stand on the side of West Virginians who work the hardest and hurt the most, and against those who profit off of our work and pain.
We choose the side of responsibility. Every dollar in this plan is accounted for. But we won't win just because these plans add up. We will have to do what our grandparents did before us, and fight for it. The harder we fight, the more we will win. People will say this plan is impossible. It is up to us to change what is possible. West Virginia Can't Wait.
Thank you for reading this summary. We will release all 30 + plans (with details and costs) in the same manner they were created–carefully, and with the help of thousands of West Virginians. Thousands of us wrote this platform at 136 Town Halls, in 550 additional visits to small businesses, recovery programs, churches, union halls, and homes. We wrote this platform in more than 10,000 conversations, voter-to-voter, face-to-face. We wrote this platform in your county team meetings and constituency team meetings. We debated and disagreed. No one got everything they wanted–not even our candidate. This platform quite literally contains the words and stories of thousands of West Virginians. 
In the coming weeks and months, keep an eye out for the detailed plans, which will appear one by one on a Platform Plans page here and in the top navigation. With each release, we'll ask for your support, critique, and help spreading the word.

Got questions about the rollout? Email Lissa@wvcantwait.com. Want to schedule a time to talk directly with our candidate for Governor Stephen Smith? Email him at Stephen@wvcantwait.com.