What WV Can't Wait For

Every West Virginia kid, no matter who their parents are, deserves a world-class education in a system designed to attract and retain the best teachers and school service personnel in the country.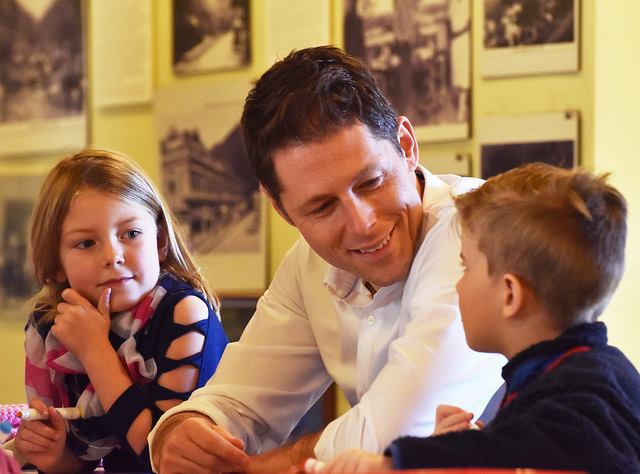 Whose Side We're On
... and more. Click the links above to read stories from the trail.
What We're Up Against
The West Virginia teachers and school service personnel strike sparked a nationwide movement, inspiring a generation of workers, parents, students and educators to fight for quality public education. But we have unfinished business. 
The Good Old Boys in the Capitol want us to think that West Virginians are divided about education. We aren't. 
Our campaign has held more than 150 Town Halls and more than 575 visits to local churches, union halls, schools, small businesses, and recovery programs. Education comes up everywhere we go. No matter who's in the room--educators, parents, business leaders, Republicans, Democrats, Independents--the people of West Virginia agree about what ails our schools. And they agree on how to fix it. 
We all want smaller class sizes, not larger. We all want mental health professionals in every school. We all want less time spent on testing, and more time spent on arts, music, entrepreneurship, coding, financial literacy, career and technical education, and other hands-on, real-world skills. We all want fewer education resources spent in Charleston, and more spent in classrooms. We all want significantly higher pay, supports, and benefits (including PEIA and loan forgiveness) for teachers and school service personnel--so we aren't starting each school year with 900+ classroom vacancies. 
The most important thing we learned from the strikes was that we can't wait for any party or politician to save our schools. We must do it ourselves.
In the spring of 2018, teachers and school service personnel took action after becoming aware of unacceptable PEIA cost hikes. In addition to the healthcare changes, educators fought for an increase in pay for not only themselves, but for all WV public employees. This led to a 9 day strike where support poured in from all over. The strike resulted in legislation to freeze PEIA, created a task force to find a funding source to stabilize the insurance, and a 5% raise for all public employees. 
Over the next year, many of those promises were broken. 
During the legislative session in 2019, educators found themselves targeted and under attack with an omnibus bill that threatened public education on all fronts in a 140 page ALEC model bill sponsored by Senate Republicans. This led to a two-day strike that resulted in a House vote to drop the matter during the session.
Despite education forums open to the public and held across the state--which showed results that 88% of WV citizens and educators did not want charter schools, ESAs, and other issues in the omnibus bill--an almost identical bill was passed during a special legislative session.
Next, in 2020, ALEC Senator Patricia Rucker has reintroduced a failed part of the omnibus bill, that would, among other things, legalize sending public money to private, for-profit schools.
Now, more than ever, educators must have a voice in our state government and education reform bills. The fight has only begun.
Our Plan
Make West Virginia the best place in America to teach.

Provide the biggest teacher and school service personnel raise in West Virginia history. We must index pay for West Virginia teachers, substitutes, and school service personnel to our highest-paying neighbors, and tie that payscale to inflation in order to attract and retain quality teachers.

Include competitive benefits for professional and service personnel including low or no co-pay healthcare, mental health services at 100% coverage, and affordable dental/vision insurance for every public school employee.

Gradually reduce class sizes to 15 max (preK-3) and 18 max (4-12), and provide additional support staff in the classroom.
Student loan forgiveness for all WV public school employees who remain in WV and are employed in a WV public school. (See forthcoming Take Me Home Plan.)
Repeal the law allowing charter schools.
Fund PEIA and change the 80-20 rule so "the state pays for at least 80 percent of the cost of future PEIA expenditures, while employees cover no more than 20 percent of the remainder."
Less testing, more teaching. Put WV teachers in charge of standards and classroom education--not out-of-state testing corporations.
Give retired teachers and school service personnel cost-of-living raises tied to inflation.

Make West Virginia the best place in America for any kid, no matter who your parents are or what your zip code is.

Adjust the school funding formula to better help rural ("sparse density") counties, especially in covering the increased cost of transportation
Less money at the top; more in the classroom. Create a West Virginia Public Education Taxpayers Council (majority comprised of teachers and school service personnel; but also including parent, student, administrator, and community representation) to re-write our educational standards and testing system, with the goals of:

Directing more resources to hands-on learning; less on testing
Maximizing the freedom of teachers to teach
Minimizing testing requirements to the bare minimum required by federal law
Saving money on expensive out-of-state testing companies (that charge West Virginia tens of millions of dollars per year) -- savings will be passed on in the form of grants to promote art, music, debate, life-skills, entrepreneurship, financial literacy, and other programs
Making West Virginia the best place in the country for technical education by funding all higher education (apprenticeships, colleges, technical college, certificates), encouraging expansion of Simulated Workplace, and developing flagship career education and "early college" programs that unite high schools, technical colleges, and apprenticeship programs to give West Virginia students a leg up when it comes to access to technical education (borrowing from the experience of Rosdale Tech in Pennsylvania);
Pushing resources from Charleston, out to classrooms. The 2012 Education Audit identified more than $18 million/year in opportunities to reduce costs at the State Department of Education and more than $70 million/year from regional efficiency.

As these and other savings are realized, they will be passed on to reduce class sizes, encourage on-site child care for teachers, administrative assistants for counselors, stop (and eventually reverse) the trend of consolidation, and eventually secure a classroom supplies stipend for every West Virginia teacher.
No teacher should have to spend money from his or her own paycheck to get the supplies to do his or her job.

Seeking ways to begin reversing the effects of school consolidation
Making recommendations for other areas of improvement:

how to promote and incentivize regional collaboration to reduce costs of administration and be able to afford to repair and/or keep open more local schools
make teacher licensure more accessible to properly-trained career switchers
guaranteeing every student access to Career and Technical Education, including partnerships with Union apprenticeship programs and Simulated Workplace programs (including finding ways for elementary and middle school students to get access to these sorts of skills/programs)

Protect the right of parents to homeschool their children

Make each school a place of prevention, healing, and recreation.

Guarantee that a combination of substance abuse prevention, crisis response (Narcan/etc.), life skills, and mental health resources exist in every school, every grade, every class.
Another effective strategy for preventing drug use is to provide healthy, easily accessible activities for children and families. We will employ shared use agreements to transform public schools into after-hours community centers, complete with meals covered by federal grant reimbursement. We could conservatively serve an additional 10 million meals this way. These arrangements can also be extended into summer programs, when possible.
Follow the lead of Pleasants County, and put at least one mental health professional in every school--to provide direct (reimbursed) mental health services to children, partner with local agencies to provide wraparound services for kids, support teachers and school personnel, and spearhead trauma-informed practices throughout the school environment for kids, parents, teachers, and school service personnel.  Plus, we'll have these professionals available in pre-K. Counselor-to-student ratio will be aligned with the 250:1 ratio recommended by the American School Counselor Association), and we'll alleviate counselor clerical work so that counselors are best able to serve our children.

Prepare kids for real life.

Make West Virginia schools a key partner in our efforts to end hunger - through afterschool meals, passing Summer Feeding Program legislation, Energy Express, and continuing the statewide march toward full breakfast and lunch programs in schools (set out in the Feed to Achieve Act).
Expand partnerships between high schools and Community and Technical Colleges, where students are able to graduate from high school with a technical certification or even an associate's degree - akin to what's currently being piloted at BridgeValley Community and Technical College, WVU-Parkersburg, and elsewhere.
Guarantee high quality, evidence-based sex education.
Spread the efforts of West Virginia innovators nationwide.

Work with local partners to certify 100 West Virginia schools as "America's Entrepreneurial Schools." (This nationally recognized entrepreneurship education program was piloted right here in West Virginia, where EntreEd is based.)
Expand locally developed efforts to reduce bullying, reduce the school to prison pipeline, and welcome children of all abilities, genders, and sexual orientations.
Aim to make every school in West Virginia a "West Virginia Sustainable School" within 10 years - developing and executing a plan for energy efficiency. Similar efforts have saved tens of millions of dollars in Marshall County.
How We Pay For It
The total cost will be $331 million, which will be covered in part by revenue generated via the Small Business Revolution plan, and in part by revenue from the Half Penny Plan.
Teacher and school service personnel pay: $282 million
PEIA: $29 million 
Shared Use Agreements and Afterschool Meals: $10 million (Roughly $10,000 for each elementary school; $15,000 for each high school help staff the plan; additional funding will be covered by federal meal reimbursements, and additional labor will be implemented by the Mountaineer Service Corps--see forthcoming plan)
Testing and Hands-on Education: Revenue neutral. The state currently spends tens of millions of dollars on out-of-state testing firms. We would reserve a fraction of those costs to pay local teachers and allies to create those tests. Savings would go towards initiatives for more hands-on education.
Expansion of classroom improvements: Revenue neutral. Paid for by savings on bureaucratic costs, outlined above. 
Implement plan to put Mental Health Professionals in every school: funding already allocated by state legislature; requires implementation
Thank you for reading this plan. It is one of our 30+ policy plans being released between now and April 2020. Thousands of us West Virginians wrote this platform at 136 Town Halls, in 550 additional visits to small businesses, recovery programs, churches, union halls, and homes. We wrote this platform in more than 10,000 conversations--voter-to-voter, face-to-face. We wrote this platform in county team meetings and constituency team meetings. This platform quite literally contains the words and stories of thousands of West Virginians. Every dollar in this plan is accounted for. But we won't win just because the math adds up. We'll have to do what our grandparents did before us, and fight for the West Virginia we deserve. The harder we fight, the more we will win. Wealthy Good Old Boy politicians in Charleston will say these plans are impossible. It's up to us to change what is possible. West Virginia Can't Wait.

Here are three ways you can take action right now.
Share this plan on Facebook and on Twitter by clicking these links.

Set up a call with our candidate for Governor, Stephen Smith, to share your feedback or find a volunteer role in our campaign.
We've raised more small donations than all of the 2016 Democratic candidates for Governor combined. This movement is fueled by people-sized donations. We don't take corporate cash.
We have County Captains, Constituency Captains and Candidates running with us in every corner of the state. It will take 1,000 leaders not 1 to win a West Virginia that works for all of us.