What WV Can't Wait For

We will all have healthcare that makes us healthy, not broke.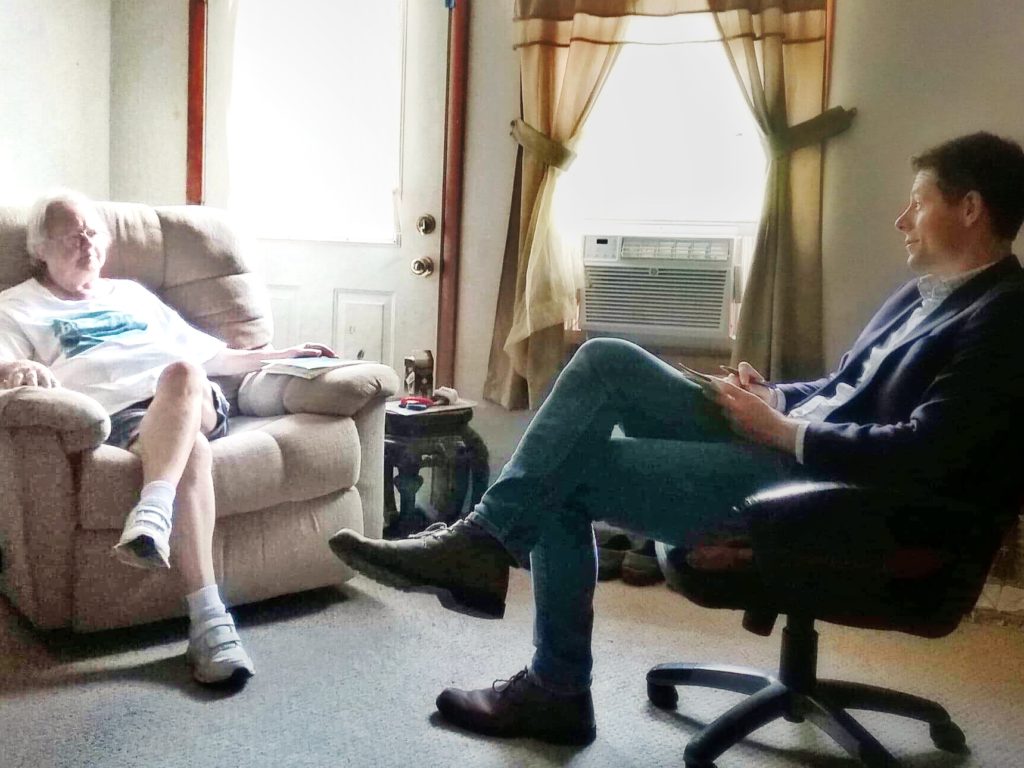 Whose Side We're On
... and more. Click the links above to read stories from the trail.
What We're Up Against
No company should rake in billions of dollars in profits while their customers ration medicine. But today in this state we have great grandmothers rationing insulin so they can afford to feed the kids they're raising.
No one should go bankrupt because they're sick. And yet big pharma companies and insurance companies keep watching their stock prices rise, while medical bills are the leading cause of bankruptcy in America today.
All West Virginians should be able to access good health care. Period.
For far too long, patients have had to fight both for our health and financial well being during a medical crisis. In our state, 6.4% of residents or 114,000 of us lack insurance completely. For those with health insurance, many of us find ourselves underinsured and stuck with medical bills we cannot pay, and then we are tasked with making calls to health insurance providers, health care systems, and drug companies in order to negotiate our medical expenses. In a state in which the per capita median income is around $25,000, too many West Virginians can't afford high cost of health care.
The underlying cause of increasing health care cost lies not with patients--but with corporate greed. The problem is massive. The solution must be of the same scale to address the crisis. West Virginia Can't Wait supports Medicare for All at the federal level but we are also determined to fight back here in West Virginia and cut healthcare costs.
Our Plan
Take on Big Pharma and insurance companies: we will cut healthcare costs.
Cap Drug Prices on Life-Saving Prescriptions by establishing a state-based Pharmacy Benefit Manager or PBM. A PBM is a third-party administrator of prescription drug programs for commercial health plans, self-insured employer plans, Medicare Part D plans, the Federal Employees Health Benefits Program, and state government employee plans. Newsweek called corporate Pharmacy Benefit Managers the "hidden villain" of the health care industry back in 2017. Since then, PBM's have continued their rapid consolidation of wealth and power. Essentially, PBM's form alliances with pharmacists and insurance companies to eliminate competition and to obscure pricing. This monopoly power allows corporate PBMs to undercut (and eventually bankrupt) local pharmacies, while driving up their own profit margins. The state of West Virginia already essentially runs its own public PBM, serving as the third-party administrator of prescription drug programs for Medicaid. Our proposal is to broaden the scope of the Medicaid PBM to welcome other insurance plans and individual customers--effectively creating a public option for prescription drugs. In addition to a state PBM, we will also pass a cap on insulin prices (no more than $50 copay) and other life-saving drugs. Cost savings from a PBM will be used, over time, to tackle initiatives like:

Expanding Medicaid to include dental coverage
Expanding prevention services and rural health care access (see some examples below)

Become the 2nd state in the country (after Rhode Island) to hire a designated Health Insurance Commissioner, with the express purpose of fighting against rising costs. Empower state government to review, negotiate, and curb drug prices. 
Create a bulk-buying fund for pharmaceuticals, akin to the Louisiana model,  in partnership with the State Bureau for Public Health. For common prescription drugs with major public health benefits (like Hepatitis C medication), this practice can generate major savings for patients
Support "price tag" laws, and other efforts to educate and inform patients about the cost of medical procedures.
Pass the nation's most ambitious plan to reduce the effects of medical debt, including:

Use a Public Bank of West Virginia (forthcoming plan) to buy back and consolidate medical debt on behalf of West Virginia citizens, enabling them to pay it back at the current value of the debt. 
Make it illegal for creditors to garnish wages for people with medical debt.
 
Increase health care access, especially for the most vulnerable.

Eliminate the IDD waiver waiting list.
Create a public option (the second in the nation, after Washington State), in partnership with PEIA, for locally owned small-businesses and individuals. This decreases costs for businesses and their employees; it also creates advantages for small businesses.
Quadruple the reach of the state's free clinics, with a particular focus on getting mobile health care units, care hubs, dental care, and harm reduction services to rural areas. West Virginia's free clinics are among the most efficient health care providers in the state, combining Medicaid dollars with volunteer hours, donations, and grants to accomplish more care with less funds. This will dramatically reduce costs and increase access for low-income communities, and seniors.
Over time, require Urgent Care providers to be open later hours. This will reduce the occurrence of costly, time-consuming emergency room visits.
Support the expansion of school-based health clinics.
Pilot telehealth kiosks in rural areas, starting with school-based health centers. This can be funded through Medicaid, has been shown to reduce costly medical visits, and also increases access. We also support a more robust "311" hotline, to help connect rural West Virginians, especially senior citizens, with a range of health and other social services.
Re-write regulations to support patients who wish to use midwives.
Fight hard for on-going opioid lawsuits against pharmaceutical companies and spearhead anti-trust lawsuits against additional health care industry players. 
Reverse Amendment 1 and guarantee access to reproductive healthcare for women across West Virginia. Restricting reproductive health care for women puts lives at risk--disproportionately the lives of rural women, black women, and women who have survived domestic violence. To reduce unplanned pregnancies, we must invest in health care, education, jobs, and other economic opportunities for women and families (covered in more detail in other policy areas). We must also expand access to birth control (oral contraceptives should be available through pharmacists; IUDs should be accessible to all); pursue menstrual equity by eliminating taxes on these products and making them available in schools and prisons; protect and increase Title X funding; support the expansion of reproductive health care clinics; implement a statewide, comprehensive, evidence-based sex education curriculum written by and for West Virginia teachers; and end restrictions on telemedicine for reproductive health (and reverse the negative effects of HB 2509).
Support efforts for WIC to cover FaceTime and telephone appointments. 
End red tape for Medicaid and SNAP recipients.
Create a Minority Health Advisory Team to advise the Commissioner of Public Health to ensure equity of access and care.
End Surprise Medical Bills. Take the consumer out of the middle on billing disputes between providers and insurance companies.
Create a single electronic health records database, once and for all.

Emphasize, and incentivize a return to cost-effective, community-based, preventative care.

Build 50 sustainable Recovery Centers in the next ten years to provide coordinated, wraparound services for people in recovery and people with mental illness. Fund proven wellness programs in afterschool programs and communities.
Permit Medicaid dollars to be used for Patient Navigators for high-need populations. Patient Navigators have been shown to dramatically reduce costs over time, because they are incentivized to provide long-term care. 
Coordinate with Mountaineer Service Corps (forthcoming plan) and the Department of Agriculture to provide more recreational activities and access to healthy food for seniors, and all communities.
Shift dollars and care toward primary care physicians. For primary care physicians, increase Medicaid reimbursement (fee schedule) for office visits to 100% of Medicare fees. Then, over 3 years, phase in increases to parity with average private fees (according to Medical Group Management Association (MGMA) data, estimated to be at least 125% of Medicare fees). Within 1 year, begin 3-year phase-in of equitable pay for primary care compared with specialist pay, by implementing at the state level the Relative Value Unit (RVU) reforms recommended in the past for the national level but never fully implemented. Primary care is more cost-effective than specialty care. Fully funding primary care will reduce costs now attributable to excess testing and referral to specialists. Over time, require providers/practices licensed in the state to take Medicaid patients, including HMO/Managed plans. This would decrease direct costs by normalizing payer mix across providers. It would also decrease indirect costs for patients who have more (and closer) access to care. Finally, this would increase providers' concern with at-risk populations. 
Continue to support Federally Qualified Health Centers and Rural Health Clinics to encourage longitudinal, cost-efficient care with access to 340B prescription drug pricing. Continue the state loan forgiveness program for primary care providers to practice in under-served areas. 

Support a strong, well-funded, and protected healthcare workforce.

Create Centers of Excellence at West Virginia colleges, technical colleges, and universities, as well as a Higher Education for All plan (forthcoming) to grow our qualified health provider workforce.
End Collaborative Practice Agreements so that Advanced Practice Registered Nurses can practice independently. In addition, pass safe staffing regulations, end mandated overtime (except for emergencies), and engage nurses and Certified Nursing Associates (CNAs) in efforts to reduce paperwork and streamline regulations--so they can spend more time caring for patients, and less time pleasing bureaucrats. Support all unionization efforts by nurses and other health care workers.
Create a Paid Family Leave Plan to cover parental leave, long-term care, and other forms of caregiver support, as well as an Earned Sick Days policy for all working people.
Pass a $15/hour minimum wage, which will include caregivers, EMS workers, and other technicians. See the Workers Bill of Rights and Justice for Our First Responders plans for more detail about how we'll make WV a better place for caregivers and workers.
How We Pay For It
Additional funding for free clinics will cost the state $11.25 million more annually.

Administrative costs for State PBM, Office of Health Insurance Commissioner, and research about public option is $8 million.

A bulk-buying "Fund for Pharmaceuticals" will cost $10 million.
All of these expenditures will be more than covered by the Half Penny Plan. In total, this plan will save much more than it costs--through the public option, a state PBM, the work of an Office of the Insurance Commissioner, and more.

Thank you for reading this plan. It is one of our 30+ policy plans being released between now and April 2020. Thousands of us West Virginians wrote this platform at 136 Town Halls, in 550 additional visits to small businesses, recovery programs, churches, union halls, and homes. We wrote this platform in more than 10,000 conversations--voter-to-voter, face-to-face. We wrote this platform in county team meetings and constituency team meetings. This platform quite literally contains the words and stories of thousands of West Virginians. Every dollar in this plan is accounted for. But we won't win just because the math adds up. We'll have to do what our grandparents did before us, and fight for the West Virginia we deserve. The harder we fight, the more we will win. Wealthy Good Old Boy politicians in Charleston will say these plans are impossible. It's up to us to change what is possible. West Virginia Can't Wait.
Here are three ways you can take action right now.
Share this plan on Facebook and on Twitter by clicking these links.

Set up a call with our candidate for Governor, Stephen Smith, to share your feedback or find a volunteer role in our campaign.
We've raised more small donations than all of the 2016 Democratic candidates for Governor combined. This movement is fueled by people-sized donations. We don't take corporate cash.
We have County Captains, Constituency Captains and Candidates running with us in every corner of the state. It will take 1,000 leaders not 1 to win a West Virginia that works for all of us.