Justice for our First Responders
What WV Can't Wait For

We will have a state where the people who risk the most are treated the best. That starts with providing first responders with the resources they need to protect the rest of us.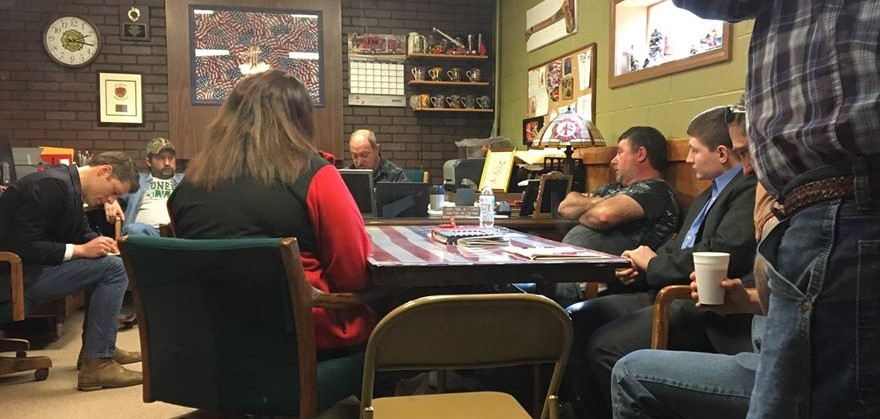 Whose Side We're On
... and more. Click the links above to read stories from the trail.
What We're Up Against
The people risking the most should not be treated the worst.
This is especially true of our first responders: our firefighters, emergency medical services, and police officers.
One volunteer firefighter told us: "If you dropped with a heart attack right here, it would take 45 minutes to get you an ambulance... and we're sitting in a fire department." Volunteer firefighters put their lives on the line every day in West Virginia, saving government billions of dollars in wages and benefits. And every year, the Good Old Boys in state government makes them beg for crumbs.
"We were all on a job a mile away from the station. Two miles away, a house caught fire...but no one could reach us because none of us had service. We only found out when another emergency responder drove past. Ya' know half the time, we just stop at someone's house and ask to use the phone. That's our communication system."
No funds for cell towers. No funds for incentives. No funds for training--that now takes more than 100 hours. No funds for emergency medical services—to help them do their job. No funds for workers compensation. Think about that: we make volunteer fire departments pay for the right to die for us. 
And it's not just fires these first responders are fighting: West Virginia is ground zero for the opioid epidemic. From 2012 to 2016, Big Pharma shipped roughly 850 MILLION pain pills into our state. To two pharmacies four blocks apart in a small town of 2900 in southern WV, they shipped more than 20 million pills. In 2017, opioid-related deaths were three times the national average here. That's hundreds and hundreds of calls that our first responders take and make.
These courageous servants risk their lives and well-being to fight fires, save lives, and even help friends and neighbors suffering from addiction.
When we treat them like this, when we make it even harder for them to do an already hard job, we lose them. And with more and more restrictions and fewer and fewer resources, it's no wonder that it's harder than ever to attract volunteer firefighters, EMS workers, and police officers.
Our Plan
Pay for workers compensation insurance for volunteer first-responders. This would free up tens of millions of local dollars that volunteer fire and EMS departments could use to pay for other needs they determine: equipment, training, communications, etc.
Provide a $1000/year stipend for all volunteer firefighters and EMS workers who reach a threshold level of service each year. Training hours will also count toward earning this stipend. Stipends could be used to cover travel costs, personal equipment costs, or go toward the cost of life or medical insurance. 
Restore the full firefighters pension for paid firefighters.
Empower a committee of first responders to re-write the state training requirements to make them more friendly to recruitment and allow greater flexibility for on-the-job training.  The model here would be one of apprenticeship, with increasing skill level and responsibility.
Seek federal grants and partnerships with health providers to guarantee mental health services for all first-responders, based on the Huntington, West Virginia model.
Train all volunteer firefighters and state police in the use of Naloxone.
Pass a $15 minimum wage to help alleviate the financial burden of our paid first responders. Our state has the 6th lowest pay rate in the nation.
Make sure that first responders are represented at every level of government. We need first responders helping to drive policy as it relates to the opioid epidemic, roads, cell towers, and more.
How We Pay For It
$45 million total.
Covering Workers Compensation for first responders will cost roughly $35 million, effectively resulting in better equipment, training, and resources for local departments.
Stipends will cost $5 million.
Restoring pensions will cost $5 million
With the help of our Homestead Act, ensuring that out-of-state landowners are paying comparable property taxes to West Virginia citizens, local governments will be able to fund higher wages for local first responders. Additional funding will be sought through federal grants and partnerships.
Other policies on this list require legal changes, not new allocations.
Thank you for reading this plan. It is one of our 30+ policy plans being released between now and April 2020. Thousands of us West Virginians wrote this platform at 136 Town Halls, in 550 additional visits to small businesses, recovery programs, churches, union halls, and homes. We wrote this platform in more than 10,000 conversations--voter-to-voter, face-to-face. We wrote this platform in county team meetings and constituency team meetings. This platform quite literally contains the words and stories of thousands of West Virginians. Every dollar in this plan is accounted for. But we won't win just because the math adds up. We'll have to do what our grandparents did before us, and fight for the West Virginia we deserve. The harder we fight, the more we will win. Wealthy Good Old Boy politicians in Charleston will say these plans are impossible. It's up to us to change what is possible. West Virginia Can't Wait.

Here are three ways you can take action right now.
Share this plan on Facebook and on Twitter by clicking these links.

Set up a call with our candidate for Governor, Stephen Smith, to share your feedback or find a volunteer role in our campaign.
We've raised more small donations than all of the 2016 Democratic candidates for Governor combined. This movement is fueled by people-sized donations. We don't take corporate cash.
We have County Captains, Constituency Captains and Candidates running with us in every corner of the state. It will take 1,000 leaders not 1 to win a West Virginia that works for all of us.