State Bank of West Virginia
What WV Can't Wait ForWe will build a fair and sustainable economy with a state bank that keeps our wealth here and benefits our people, rather than out-of-state interests.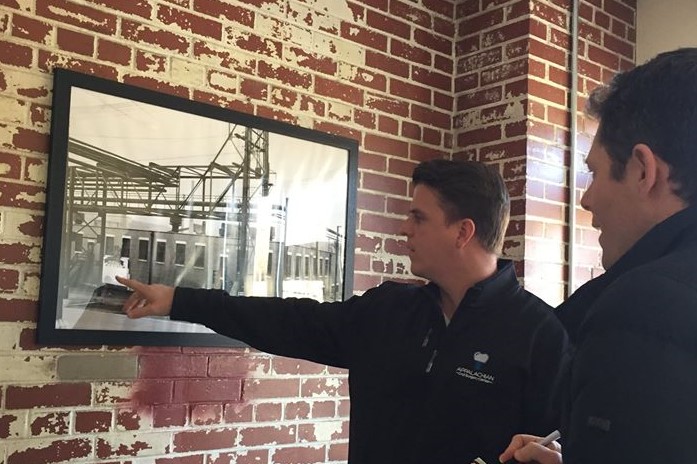 Whose Side We're On
... and more. Click the links above to read stories from the trail.
What We're Up Against
Small businesses account for about 99% of total businesses in the state and employ about half of the work force. Without funding, these businesses cannot operate: startups don't start up, entrepreneurship is curtailed, growth is hindered, and people flee the state for better opportunities elsewhere. Yet most of our state is classified as a "lending desert."
A state bank will address this problem by increasing local lending to small businesses and farms, funding entrepreneurs and startups, and eliminating our state's lending desert. We will invest in projects that not only improve West Virginia communities, but promote economic diversification and create jobs.
State banks make credit easily available to start new businesses and expand existing ones--and they're guided by three principles:
Working in the interest of the public, not private shareholders
Maximizing sustainable lending, not profits
Keeping capital local, to benefit our communities
These principles ensure that state money is enlisted to work for an economy that creates value for West Virginians, not for Wall Street's speculative financial markets.
The Bank of North Dakota (BND) is an example of how this can work. Chartered in 1919, the BND is the driving force of the North Dakota economy. Because of the BND, North Dakota can recover from budget shortfalls with mechanisms not available to most states, the bank itself acts as a Rainy Day fund. Even better, the BND has posted record profits annually for the past decade and a half, including throughout the financial crisis, recently delivering 17% returns on investment.
Instead of sending all our wealth away to millionaires and billionaires who couldn't care less about us, with a State Bank of West Virginia, we will invest in ourselves: in small businesses, small farms, entrepreneurs, rural infrastructure, sustainable industries, young West Virginians, veterans, and more. We'll finally invest in the long term good of our people.
Our Plan
Establish State Bank of West Virginia. This bank will be modeled in part after The Bank of North Dakota with the goals of:

Keeping tax dollars invested in our own state instead of enriching Wall Street and out-of-state corporations.
Funding rural infrastructure projects such as water, energy, and broadband--all things that will improve the quality of life in our communities and benefit businesses as well.
Through the Small Business Revolution plan, investing in innovative, small businesses that are the heart of regenerating our communities.
Providing loans for our small family farms to innovate and prosper.
Providing loans for safe, energy-efficient affordable housing and energy efficiency upgrades for our communities.
Initiating and refinancing student loans for the young people of our state by administering the (forthcoming) Take Me Home plan.
Providing lines of credit as a rapid response to emergencies such as flooding.
Protecting the pensions of our state employees and our economy through sound investments here in West Virginia.
Investing in arts and culture initiatives.
Saving our state millions of dollars in interest that citizens are now forced to pay on the Jim Justice Road Bond and other loans.
Promoting partnerships with critical, local community banks to help ensure their continued success.

The West Virginia State Bank will function as a social wealth fund, benefiting the people of West Virginia like Alaska's "citizens' dividend" benefits Alaskans. Specifically, half of the Bank will be owned by the people of West Virginia, producing dividends directly to the people of the state (after 5 years), akin to the Alaska model. The other half of the Public Bank will operate in the manner of the Bank of North Dakota, producing revenue for state government, saving costs on infrastructure programs, smoothing disaster rapid response, and offering competitive loans to West Virginia entrepreneurs. The Bank will build wealth over time, through the following: 

Profit generated from ownership of the Middle Mile broadband network (see forthcoming Broadband Plan);
Return from venture capital investment in small businesses, through the Small Business Revolution;
Revenue generated by the activity of a land bank, as part of our Homestead Act.

Create a Bank Advisory Board. Our State Bank's business model will represent the interests of the people, and provide insulation from the whims of purchased politicians and the influences of large, out-of-state interests.
Require companies providing 401K options in West Virginia to include an option that invests in the state bank. Instead of paying dividends to Wall Street, we will be paying dividends to the State Bank's only shareholder: our people.
How We Pay For It
This is ultimately a revenue positive plan. See, for example, the BND's 2017 annual report showing it's 14th consecutive year of record profits, with $145.3 million in net earnings. BND has accrued 7 billion in assets and $825 million in operating capital over time.
That said, the question of how to initially capitalize a public bank of West Virginia stands, but there is no shortage of existing sources of capital for the bank. Here are five possibilities. 
Thank you for reading this plan. It is one of our 30+ policy plans being released between now and April 2020. Thousands of us West Virginians wrote this platform at 136 Town Halls, in 550 additional visits to small businesses, recovery programs, churches, union halls, and homes. We wrote this platform in more than 10,000 conversations--voter-to-voter, face-to-face. We wrote this platform in county team meetings and constituency team meetings. This platform quite literally contains the words and stories of thousands of West Virginians. Every dollar in this plan is accounted for. But we won't win just because the math adds up. We'll have to do what our grandparents did before us, and fight for the West Virginia we deserve. The harder we fight, the more we will win. Wealthy Good Old Boy politicians in Charleston will say these plans are impossible. It's up to us to change what is possible. West Virginia Can't Wait.

Here are three ways you can take action right now.
Share this plan on Facebook and on Twitter by clicking these links.

Set up a call with our candidate for Governor, Stephen Smith, to share your feedback or find a volunteer role in our campaign.
We've raised more small donations than all of the 2016 Democratic candidates for Governor combined. This movement is fueled by people-sized donations. We don't take corporate cash.
We have County Captains, Constituency Captains and Candidates running with us in every corner of the state. It will take 1,000 leaders not 1 to win a West Virginia that works for all of us.