What WV Can't Wait For

We will build a state government that chooses the side of miners and mining communities, not coal executives and out-of-state shareholders.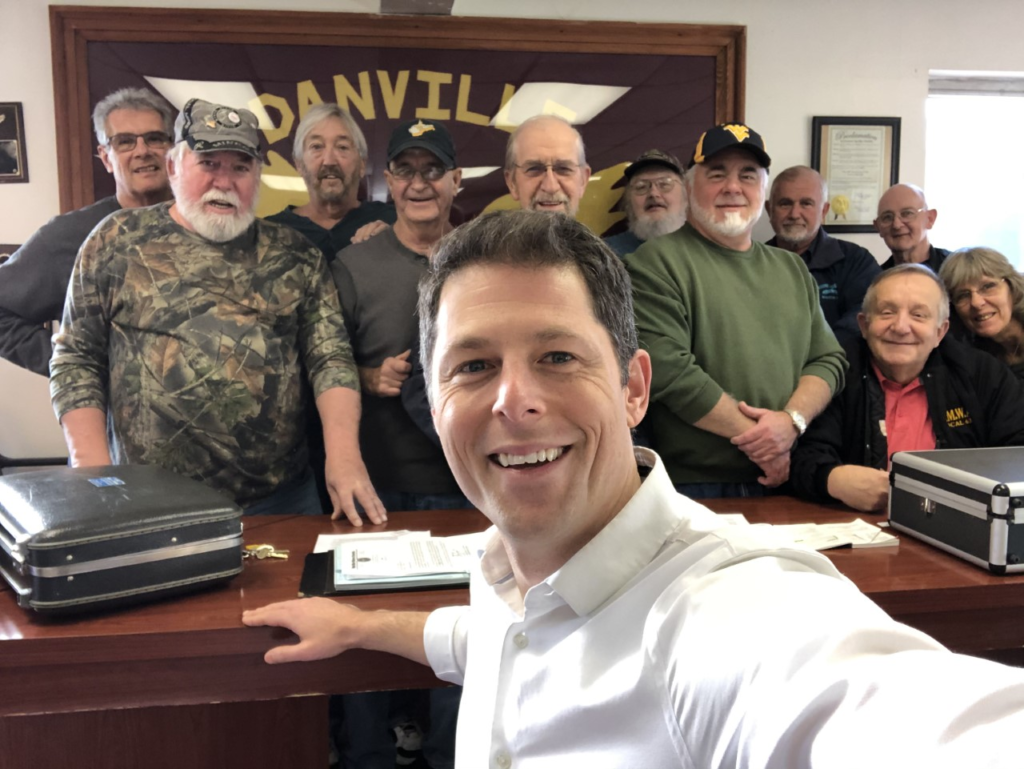 Whose Side We're On
... and more. Click the links above to read stories from the trail.
What We're Up Against
In West Virginia, the real fight has always been between mineworkers and coal executives. From the Mine Wars to the Black Lung Strikes and beyond, workers have stood on the side of solidarity, dignity, and the constitutional right to assemble. That's whose side we're on. 
West Virginia's coal miners have kept the lights on in this country for generations. But their greatest contribution to our nation's history was to teach generations of working people how to fight back, and win. The UMWA and rank-and-file workers are responsible for transforming one of the most exploited jobs on the planet into a decent middle-class living.
100 years ago, a worker in a West Virginia mine was more likely to die on the job than an American soldier fighting overseas during the first World War. A miner's home, school, and local stores were all owned by the company.
Unions changed all that. 
But miners are still in one of the most dangerous jobs in the world, and our government too often chooses the side of coal executives instead of coal miners.
Meanwhile Black Lung is actually increasing, and thanks to federal regulation, miners often have to wait years after a Black Lung diagnosis before receiving the benefits they are promised by law. Company-owned doctors and lawyers challenge them every step of the way, wasting miners' time and taxpayer money. Some die waiting. Others never receive funds at all.
We will have a state that chooses the side of workers every time: their benefits, their safety, and their fair pay.
Our Plan
Establish a West Virginia State Black Lung Pension Fund. We will establish a State Black Lung Pension Fund, with clear guidelines determined by mineworkers--not company executives--to supplement the federal Black Lung Pension Fund. Our plan to Cut Healthcare Costs in the state will also benefit miners who are sick, and their families.
  Make a Jobs Promise to laid-off miners. Our state will choose the side of miners and mining communities.

We will create tens of thousands of new, middle-class jobs in public works--water, clean energy, small business, agriculture, land reclamation, and infrastructure--in the Mountaineer Service Corps. This jobs program will create enough opportunity to promise good work with benefits to laid-off mineworkers.
Create a "Miners Tax Break" that offers strong incentives to private companies, non-profit organizations, and other businesses that offer middle-class, union jobs to mineworkers in sectors beyond mining ($20K tax break per job).  

Levy a 100% tax on bonuses, Golden Parachutes and other payouts for coal executives when their companies have reneged on worker pay, healthcare costs, or pension obligations. Pay that money back to the miners they tried to steal it from. See more in our Workers Bill of Rights.
Employ new Corporate Crime and Political Corruption Divisions in the State Police (see forthcoming plan) to investigate and pursue charges against coal executives that fail to pay fines, violate safety regulations, or renege on pensions and other benefits during bankruptcy. We must ensure that miners are safe underground, on the job, and after they retire.
Direct the Department of Environmental Protection to do its job to protect our communities, instead of protecting millionaires, billionaires and politicians. We will work with mineworkers to update languishing mine safety regulations.

It will be more expensive to violate regulations than to put miners' health and safety at risk.
We will make sure clean, safe drinking water is accessible in every mining community. (See forthcoming Safe Water for All Plan)

Laid-off miners, miners, and mining families will have free tuition at state public colleges through our forthcoming Higher Education plan.
We will restore and renew the economies of distressed mining communities. Our Small Business Revolution, Serve Family Farmers, Homestead Act, Broadband for All, Fix the Roads, and Legalize Cannabis plans together will help enterprising miners start farms or businesses in their own communities, so they can stay in the places that they love, close to family and friends. These plans are also ideally suited to lifting up mining communities and other rural distressed areas that this state has sacrificed for too long for the profits of coal executives and the political Good Old Boys in Charleston.
How We Pay For It
Revenue: $60 million (erasing the ill-advised severance tax cut)
Costs:
~$30 million Black Lung Pension Fund (based on informal estimates; no fiscal note exists)
$20 million in tax incentives for Mineworker Jobs Programs (1,000 jobs, with the state offering $20,000 in tax breaks for each one).
    Additional expenses outlined in other plans as mentioned above, such as Mountaineer Service Corps, etc.
Thank you for reading this plan. It is one of our 30+ policy plans being released between now and April 2020. Thousands of us West Virginians wrote this platform at 136 Town Halls, in 550 additional visits to small businesses, recovery programs, churches, union halls, and homes. We wrote this platform in more than 10,000 conversations--voter-to-voter, face-to-face. We wrote this platform in county team meetings and constituency team meetings. This platform quite literally contains the words and stories of thousands of West Virginians. Every dollar in this plan is accounted for. But we won't win just because the math adds up. We'll have to do what our grandparents did before us, and fight for the West Virginia we deserve. The harder we fight, the more we will win. Wealthy Good Old Boy politicians in Charleston will say these plans are impossible. It's up to us to change what is possible. West Virginia Can't Wait.

Here are three ways you can take action right now.
Share this plan on Facebook and on Twitter by clicking these links.

Set up a call with our candidate for Governor, Stephen Smith, to share your feedback or find a volunteer role in our campaign.
We've raised more small donations than all of the 2016 Democratic candidates for Governor combined. This movement is fueled by people-sized donations. We don't take corporate cash.
We have County Captains, Constituency Captains and Candidates running with us in every corner of the state. It will take 1,000 leaders not 1 to win a West Virginia that works for all of us.