Mountaineer Service Corps
Jobs Program
What WV Can't Wait ForWe'll create 40,000 living wage jobs with benefits--including in rural, economically distressed areas--with the Mountaineer Service Corps.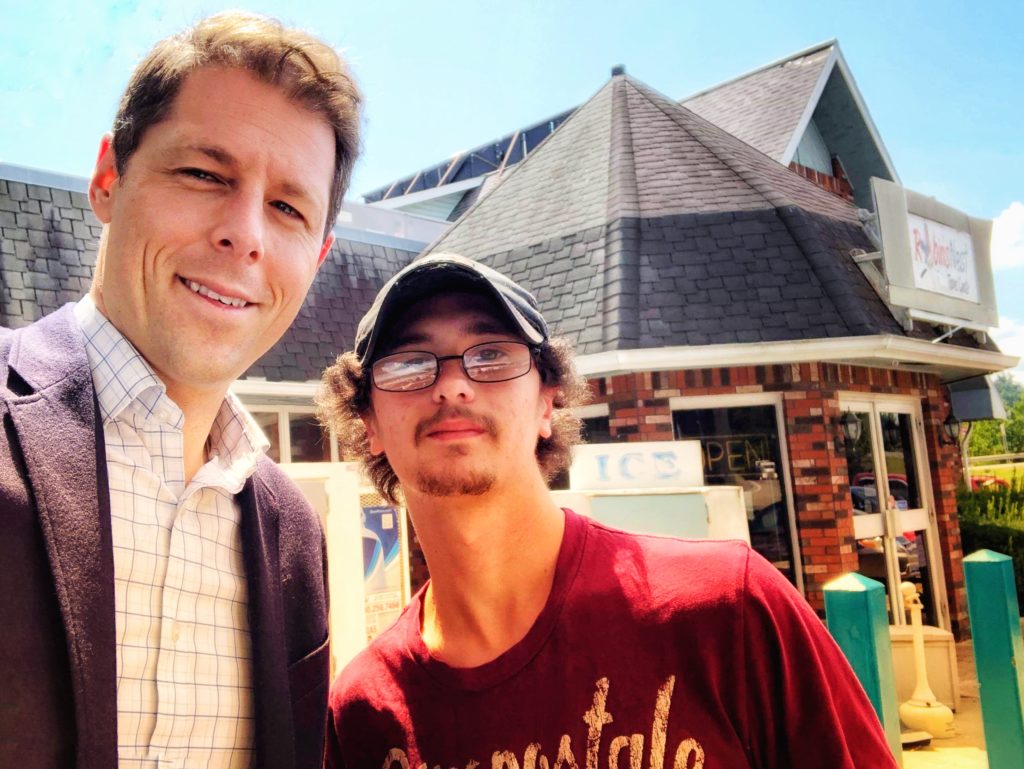 Whose Side We're On
... and more. Click the links above to read stories from the trail.
What We're Up Against
West Virginia's economy is in turmoil. Compared to a generation ago, we have fewer jobs. Good jobs are harder to get, and harder to keep. And our wages are stagnating while inequality grows. 
While our working people are more productive than ever, we end up with a smaller and smaller slice of the pie. 
We face several problems as a result of this population decline and "the struggle to stay."
West Virginians who can afford to often choose to flee the state for better opportunities elsewhere: "West Virginia has lost an average of 15,940 residents per year, 1,328 citizens per month, 307 per week, and 44 per day. Imagine two people packing up and leaving the state almost every hour of every day, and that would best describe West Virginia's migration over the years."
Struggling workers who can't afford to flee are underemployed--with a part-time job or multiple jobs--or we just drop out of the workforce altogether.
Property values decline with a shrinking population--when there is more supply than demand--causing homeowners to have difficulty getting loans to maintain their homes without equity. Property values drop even further when corporate legislators subvert the free market by forcing rural property owners to sell or lease to industry at below-market value.
Declining student enrollment closes schools, causes job losses, and harms communities. The funding formula is based largely on enrollment, and as a state, we lost more than 4000 students last year alone. Small community schools are part of the fabric of what holds our communities together: often three or more generations in a family have attended the same school, played for the same team, walked the same halls. These vital schools are forced to close or consolidate as the tax base declines and funding decreases.
Public services and infrastructure, including water and sewer, crumble when property values that are declining from population loss depress county revenues. This leads to maintenance budget cuts and even more difficulty maintaining services.
The lack of healthy infrastructure in itself creates more motivation for people to leave, exacerbates the deficit of good jobs in distressed areas, and increases income inequality. It throws us into a vicious cycle that causes people to leave for lack of opportunity and public services, meanwhile opportunity and public services decline because people are leaving.
Bought off WV politicians help their donors profit by decimating rural property values with "sacrifice zones." As a result, hardworking West Virginians get stuck bearing the costs while rich out-of-state execs benefit.
It doesn't have to be this way.
We can and will create a thriving economy together, literally building it from the ground up: The solution is a public works jobs program funded by the same industries that have busted our communities, and profited from our pain. 
Public works programs that improve infrastructure also improve quality-of-life for working West Virginians and attract businesses. It's exactly what we need, and on a large scale.
We will create an economy where West Virginians have the opportunity to thrive right here in West Virginia--if we fight for it.
Our Plan
Create 40,000 good jobs in WV with a state-level Works Progress Administration, called the Mountaineer Service Corps jobs program, and through other initiatives: 

Employ 3,900 new, unionized workers to work for the public through state/local government and non-profit organizations at a living wage, with benefits. These jobs will include state park maintenance assistants; community center workers; public art and history creators and coordinators; agricultural extension workers; foresters; disaster relief workers; court watchers; peer recovery coaches and recovery coaches; child care workers, Child Protective Services workers; drivers for seniors, people with disabilities, and veterans; officers to organize river/land clean-ups, and clean-up crews; ex-offender re-entry workers; school garden coordinators; summer feeding program aides; economic development fellows to assist small business owners; energy efficiency jobs; homegrown community-based mental health and recovery models (like Libera and SOAR); volunteer coordinators for benefits programs; Senior Service members, and more. This plan will be a powerful tool to encourage, support, strengthen, and expand the work already being done by citizens in low-income communities, local government, congregations, and charity organizations.
Fund 7000+ skilled jobs in water and sewer infrastructure maintenance/repair, some in each county, available to distressed small towns with aging systems and few or no municipal workers. See our (forthcoming) Safe Water for All plan.
Install solar panels and make other energy efficiency improvements on 1000 public buildings in towns of all sizes and in rural areas, creating  about 7,000 jobs over time (see forthcoming plan to Protect Our Land). 
Establish a Summer Youth Mountaineer Corps--1,000 summer jobs for young people at $3500 each. The 1,000 positions will include staffing summer feeding programs, internships, and other learning experiences for young West Virginians, akin to FDR's Civilian Conservation Corps, which "worked on reforestation and conservation projects; fought forest fires; built shelters, fire towers, fire stations, roads, and trails; strung electric and telephone lines; and planted thousands of trees," in addition to building many of our state parks.
Create 600+ jobs for people in recovery, ex-offenders, and others on the front-lines (see Recovery Can't Wait Plan).
Enact tax credits to create 1,000 jobs for people with disabilities, where the program would cover half the salary of those employed (see our Freedom for People with Disabilities plan for details).
Get 1,000 displaced miners back into the workforce through tax breaks each year for companies that employ laid off miners or their family members (See Miners Bill of Rights).
Invest in reaching high-quality broadband infrastructure to rural areas (see forthcoming plan), eventually creating 5,000+ jobs that not only improve the quality of life in small towns and rural areas, but also make it more attractive for businesses.
Create 15,000 jobs by capitalizing small, local businesses through the State Bank. Over the next 10 years, the Public Bank of West Virginia will capitalize 30,000 small businesses (3,000 per year) through our Small Business Revolution, because high-impact startups create jobs at a higher rate than any other sector of the economy.

Fund the jobs program by keeping our wealth here, and investing our communities, so we can make sure West Virginians benefit from our resources:

Raise natural gas and oil severance tax to 10%.
Raise the natural gas liquids tax to 15%.
Put protections in place to ensure that out-of-state corporations getting rich from our state's wealth are paying the severance taxes, and not off-loading them onto WV mineral rights owners by deducting them as post-production expenses.

Further expand the Mountaineer Service Corp jobs program in the future by employing a highly qualified grant writing committee to seek tens of millions in additional, supporting funds--and seeking partners for the Mountaineer Service Corps job program. (Included in our forthcoming plan to Take Government Beyond Charleston)
How We Pay For It
Revenues:
Total - $265 million in revenue for us, by shifting taxes away from working and rural people, and onto out-of-state consumers of our resources as well as the out-of-state executives.
Some of this bounty may be set aside to help capitalize the State Bank of West Virginia, which will fund infrastructure projects such as fixing the roads and repairing our crumbling water and sewer infrastructure, as mentioned above--things that not only create jobs, but improve the quality of life for all West Virginians.
Costs:
Total - $140 million
$136.5 million - Creation of 3900 living-wage jobs with benefits  at $35,000 each. (An additional $5,000+ for each job will be raised through local non-profits, federal grants, or other matching funds.)
$3.5 million - Summer Youth Mountaineer Service Corps 
For the People with Disabilities Jobs program ($20 million), the Water and Sewer Infrastructure Jobs program ($70 million, forthcoming Safe Water plan), Broadband jobs ($22 million, forthcoming Universal Broadband Plan), Green Infrastructure jobs ($40 million, forthcoming Protect Our Land plan), jobs tax credits for employing displaced miners ($20 million), Recovery Jobs program ($10 million), and investments in small businesses by the State Bank via the Small Business Revolution ($75 million), costs are included in other plans. 
Thank you for reading this plan. It is one of our 30+ policy plans being released between now and April 2020. Thousands of us West Virginians wrote this platform at 136 Town Halls, in 550 additional visits to small businesses, recovery programs, churches, union halls, and homes. We wrote this platform in more than 10,000 conversations--voter-to-voter, face-to-face. We wrote this platform in county team meetings and constituency team meetings. This platform quite literally contains the words and stories of thousands of West Virginians. Every dollar in this plan is accounted for. But we won't win just because the math adds up. We'll have to do what our grandparents did before us, and fight for the West Virginia we deserve. The harder we fight, the more we will win. Wealthy Good Old Boy politicians in Charleston will say these plans are impossible. It's up to us to change what is possible. West Virginia Can't Wait.

Here are three ways you can take action right now.
Share this plan on Facebook and on Twitter by clicking these links.

Set up a call with our candidate for Governor, Stephen Smith, to share your feedback or find a volunteer role in our campaign.
We've raised more small donations than all of the 2016 Democratic candidates for Governor combined. This movement is fueled by people-sized donations. We don't take corporate cash.
We have County Captains, Constituency Captains and Candidates running with us in every corner of the state. It will take 1,000 leaders not 1 to win a West Virginia that works for all of us.