What WV Can't Wait For

To bring humane relief to those dealing with cancer, PTSD, epilepsy, addiction, pain, and other conditions; to help small farmers and entrepreneurs--and to boost our budget--we will legalize cannabis in West Virginia.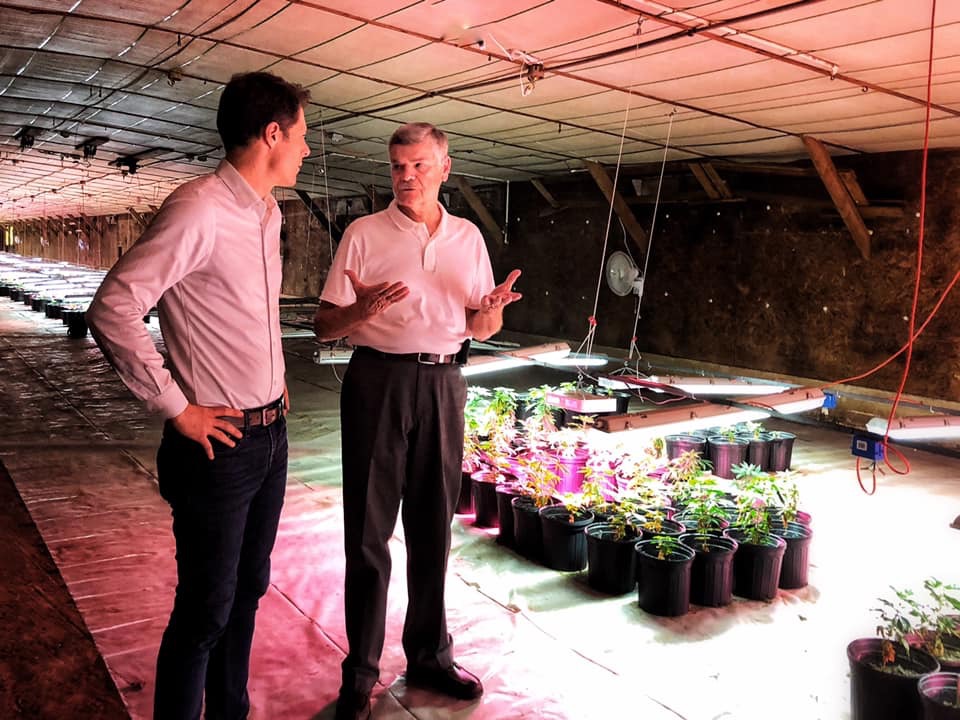 Whose Side We're On
... and more. Click the links above to read stories from the trail.
What We're Up Against
Our state needs middle class jobs. The average annual income of someone in the top 1% in West Virginia is $535,648, versus $34,987 for someone in the bottom 99%. In this country, more than half of real income growth since 1979 has gone to the top 1%, and more than 8 million people are working multiple jobs. In other words, families that could once make ends meet on one job may now need three or more. This situation increases the likelihood that hard-working families struggle just to get by.
One of the reasons for this disparity is that in the early stages of the development of new industries (such as cannabis), the wealthy few buy legislators to write new industry regulations in their favor, and then the wealthy benefit at the taxpayer's expense. In other words, the regulations written by industry lobbyists and passed by corporate-owned legislators are designed to place the costs and risks on taxpayers, but privatize the profits.
The end result of equating wealth with political power is a vicious cycle: economic inequality continues to widen, and it's happening more and more rapidly in recent decades.
Meanwhile, a perfect storm of corporate tax giveaways, faulty estimates, and mismanagement has led to falling revenue for our state. As a result, state government has spent the last decade cutting higher education, public schools, infrastructure projects and other economic drivers that are also foundational to our quality of life. 
What's more, our state is hurting. With high drug costs--as much as $100,000/month for cancer patients--and limited pain management options, people have few tools for enduring especially difficult treatments. 
And this is not our state's only drug crisis. Our drug overdose death rate is three times higher than the national rate. It's so high that our kids are three times more likely to die of an overdose than in a traffic accident.
It doesn't have to be this way.
Cannabis legalization leads to a decrease in opioid-related deaths in states where dispensaries are present. We need to use every tool at our disposal to reduce the number of opioid deaths.
Our Plan
Fully legalize cannabis in West Virginia. Licenses for the growing and selling of cannabis will favor local West Virginians and small farms, over out-of-state companies and factory farms.
Choose small farms over Big Ag and Big Pharma. Create a new Cannabis Secretary with the West Virginia Department of Agriculture to support new Cannabis Growing Regulatory Protocols that favor small growers, and make sure that all licensing, testing, and other regulations are written to favor local growers, producers, and sellers.

Reduce the presence of a black market by making barriers to entry low, and creating clear, easy-to-follow regulations for the sale of cannabis at shops, cannabis bars, and cannabis-friendly establishments, and incentivizing large growers to follow licensing procedures. 
To reduce barriers to entry for small growers--and to provide low-cost options for patients requiring cannabis for pain relief--make it so West Virginians can cultivate up to 36 plants per adult for medical use, recreation, or hemp production, without a permit. If the product is brought to market, it will then be tested for purity and subsequently taxed.

Erase cannabis convictions. Remove cannabis offenders from prison and expunge the records of all cannabis offenders. Reallocate funds currently spent on enforcement and prosecution of non-violent cannabis offenses to assist those released from incarceration with vital services related to housing, education, and employment.  
Ensure that gun owners do not lose their rights due to producing or using cannabis.
Make West Virginia the best place in the country for hemp growers. Decriminalize and expand West Virginia's hemp industry by allowing farmers to take crops to market that surpass the state THC threshold. Make WVDA testing available at reasonable costs for complete cannabinoid profiles, heavy metals, and pesticide residues.
Make West Virginia the gold standard for cannabis production. Ensure that a State Laboratory test all cannabis-based products entering the market and provide a stamp indicating that cannabis has been tested, graded, and certified.
Ensure fairness. Make certain that people who have been disproportionately punished for cannabis cultivation, distribution and use--especially low-income and Black West Virginians--receive access and incentives to participate in this industry in proportion to the burden those communities have carried.
Create a tax structure that allows patients with valid WV Medical Cannabis Patient Identification Cards to purchase products at legal recreational cannabis dispensaries tax-free.
 Discourage cannabis drug tests, either as requirements for hiring, or as requirements for qualifying for benefits.
Create a Center for Excellence, in partnership with a college or university. Seed a Cannabis research program at a West Virginia college or university to study hemp plastics, biofuel, and other uses. (See Serve Family Farmers plan.)
Direct significant investment toward the hemp and cannabis industries, up and down the supply chain. Hundreds of millions of dollars per year will be shifted to West Virginia entrepreneurs, workers, and farmers through our Small Business Revolution, Serve Family Farmers, and Mountaineer Service Corps plans, in order to create middle class jobs. Each of these plans is also an opportunity to invest in the hemp and cannabis industries.
How We Pay For It
Easy: this plan makes more money than it costs.
Costs
Estimated $9 million, one time cost in administrative fees (to "develop regulations, process and distribute licenses, conduct training, and obtain marijuana-tracking systems")
Small, ongoing cost to add the position of Cannabis Secretary to the West Virginia Department of Agriculture.
Revenue
From legalizing and taxing cannabis, WV can conservatively expect to add $45 million to the annual budget based on in-state demand alone--and up to $194 million if out-of-state demand is included. The larger number is unlikely to be sustained indefinitely, as more and more states legalize, but the more quickly we act, the more revenue we're likely to see.
Savings
Most importantly, we would see an estimated 25% reduction of deaths caused by opioid overdose: this measure alone could save more than 200 lives in West Virginia on a yearly basis. (Please see our Recovery Can't Wait plan for additional ways to address the addiction epidemic.)
Thank you for reading this plan. It is one of our 30+ policy plans being released between now and April 2020. Thousands of us West Virginians wrote this platform at 136 Town Halls, in 550 additional visits to small businesses, recovery programs, churches, union halls, and homes. We wrote this platform in more than 10,000 conversations--voter-to-voter, face-to-face. We wrote this platform in county team meetings and constituency team meetings. This platform quite literally contains the words and stories of thousands of West Virginians. Every dollar in this plan is accounted for. But we won't win just because the math adds up. We'll have to do what our grandparents did before us, and fight for the West Virginia we deserve. The harder we fight, the more we will win. Wealthy Good Old Boy politicians in Charleston will say these plans are impossible. It's up to us to change what is possible. West Virginia Can't Wait.

Here are three ways you can take action right now.
Share this plan on Facebook and on Twitter by clicking these links.

Set up a call with our candidate for Governor, Stephen Smith, to share your feedback or find a volunteer role in our campaign.
We've raised more small donations than all of the 2016 Democratic candidates for Governor combined. This movement is fueled by people-sized donations. We don't take corporate cash.
We have County Captains, Constituency Captains and Candidates running with us in every corner of the state. It will take 1,000 leaders not 1 to win a West Virginia that works for all of us.