What WV Can't Wait For

With the Homestead Act, we'll build an economy where our land--one of WV's most valuable resources--profits the working families of our state, not out-of-state corporations.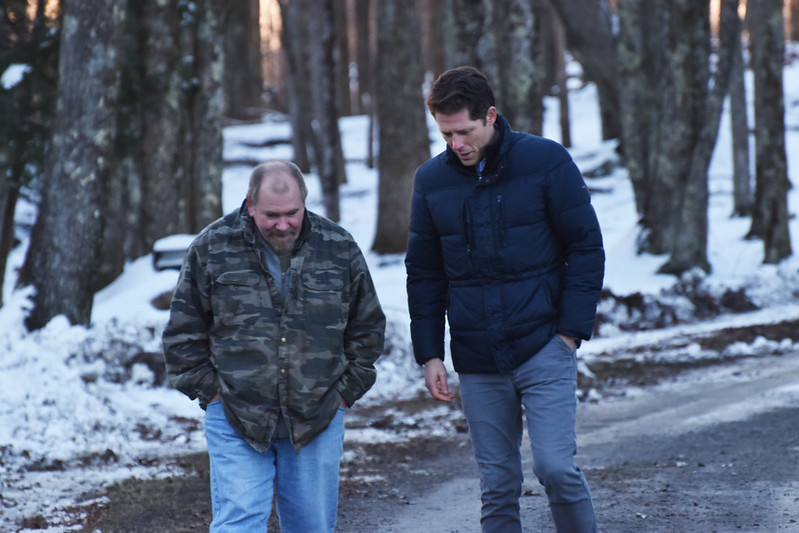 Whose Side We're On
... and more. Click the links above to read stories from the trail.
What We're Up Against
Our land isn't owned by us.
Vast swaths of West Virginia land are owned or controlled by out-of-state corporations that aren't invested in the state's future like West Virgnians are. Worse, sometimes properties or mineral rights were "purchased" or leased generations ago for pennies on the dollar by dishonest out-of-state speculators taking in unwary sellers who didn't know the real value of what they had, or lacked access to investment capital.
A 2013 study (the most current available) by the West Virginia Center on Budget and Policy found that, in six counties, at least half of private land is held by the state's 10 largest landowners. The study also showed that of the state's 13 million privately-owned acres, 17.6 % is owned by the largest 25 private owners.
And worse, "Not one of the state's top ten private landowners is headquartered in West Virginia."
Those firms' unilateral decisions about what happens to our state's mountains, fields, forests, and other iconic properties affect our communities and our economy greatly. But working West Virginians have little say in what happens with so much of our land.
Sadly, many of those properties aren't subject to regular taxes like those that working families must pay on homes or land. The lack of fair taxation on property is a longstanding issue in West Virginia. And it has contributed to the underfunding of our schools, roads, and state programs.
Our state's Good Old Boy politicians have not stood with working people, though. Instead, they've been been "content with their roles and their profits as middlemen for the absentee owners of the state's natural wealth," as West Virginia historian John Alexander Williams has put it.
The same thing is happening on Main Street. Absentee landowners are rewarded with low property taxes and regulations that reward dilapidated properties. Meanwhile, small business owners are stuck, because our tax structure not only takes away their incentive to develop and improve their properties--they are punished for doing so.
It's the oldest story in West Virginia. Our people work hard and pay their taxes, so that someone else gets rich. The people with the least pay the most, and the people with the most, pay the least.
It doesn't have to be this way.
Our Plan
Make out-of-state land companies pay their fair share. We'll increase the existing excess acreage fee and make it an annual fee of $5 per acre. For out-of-state property owners--and exempting active-use farms owned by West Virginians-- we'll also switch to a market-based approach to tax assessment as opposed to Use-Value Assessment.  So, we stop giving preferential treatment to large corporate landholders and stop incentivizing undeveloped and dilapidated properties.
End absentee landownership by ending perverse incentives. 50 percent of the revenue generated from the new, annual excess acreage tax will go back into county and local governments, for the purpose of helping to incentivize land development. This could look a few different ways:

Investing in local infrastructure and recreation 
Establishing local land trusts or land banks to manage land that will come into public ownership as these absentee landowners default (possible uses could include selling off for carbon offsets, farming, parks, etc.)
Give local governments more freedom to respond to local people and problems through the extension of Home Rule.
Creating local tax credits and incentives for local businesses that are engaged in re-development, levying penalties against landowners who refuse to re-develop, etc.
Clean up our outdated timber laws. 

End the "managed timberland" designation for landholders with more than 1,000 acres, so they pay their fair share, and let increased revenues from those lands return to County governments. 
Reinstate the timber severance tax to fund a Division of Forestry that can ensure proper management of our timber resources, and fund and other development opportunities.
Incentivize large landholders to develop woodlands for public use.

Ramp up efforts to put vast tracts of land to use for the public and private good of working families. This would include:
With a comprehensive, ongoing land study, reliably categorize and provide transparency about all land and mineral rights held by state, local, corporate, and individual interests.
Incentivize and facilitate large-scale public infrastructure projects such as parks, trails, road maintenance, and broadband.
Experiment with large-scale public-private partnerships in wind, solar, cannabis, and other new industries.
Transfer at least 200 parcels of land per year to individual entrepreneurs, family farmers, veterans, cooperatives, displaced coal miners, etc. The application process will have the goal of maximizing local homeownership and the development of West Virginia-owned businesses. 
Partner with the Mountaineer Service Corps (see forthcoming plan) to increase capacity in the Department of Natural Resources, Development Office, State Parks, and other state agencies.
Explore ways to cause out-of-state companies located just outside of city limits to pay the same B&O taxes that local, in-town businesses have to pay.
Adjust the tourism budget and redirect it to better help West Virginian small towns, small businesses, artisans, farms, etc.  
Raise the Homestead Exemption to $40,000 or more, to protect low-income West Virginians and senior citizens (fiscal note).
How We Pay For It
Total revenue generated would be $103.5 million.
Revenue generated from increasing the excess acreage tax--to start at $5 per acre for land above 1,000 acres, and rise to $50 per acre over 250,000 acres--would yield $106 million annually. Some of this will go to support Veterans (see our Veterans Contract).
Cost would be roughly $2.5 million dollars/year to employ 35 additional employees to administer the application process and the transfer of the parcels of land to farmers, small businesses, entrepreneurs, local governments, veterans, working families, etc.
Please view our forthcoming Protect Our Land, Safe Water for All, and other plans to see more details about how we protect surface owners and local citizens.
Thank you for reading this plan. It is one of our 30+ policy plans being released between now and April 2020. Thousands of us West Virginians wrote this platform at 136 Town Halls, in 550 additional visits to small businesses, recovery programs, churches, union halls, and homes. We wrote this platform in more than 10,000 conversations--voter-to-voter, face-to-face. We wrote this platform in county team meetings and constituency team meetings. This platform quite literally contains the words and stories of thousands of West Virginians. Every dollar in this plan is accounted for. But we won't win just because the math adds up. We'll have to do what our grandparents did before us, and fight for the West Virginia we deserve. The harder we fight, the more we will win. Wealthy Good Old Boy politicians in Charleston will say these plans are impossible. It's up to us to change what is possible. West Virginia Can't Wait.

Here are three ways you can take action right now.
Share this plan on Facebook and on Twitter by clicking these links.

Set up a call with our candidate for Governor, Stephen Smith, to share your feedback or find a volunteer role in our campaign.
We've raised more small donations than all of the 2016 Democratic candidates for Governor combined. This movement is fueled by people-sized donations. We don't take corporate cash.
We have County Captains, Constituency Captains and Candidates running with us in every corner of the state. It will take 1,000 leaders not 1 to win a West Virginia that works for all of us.