What WV Can't Wait For

West Virginia will be the best place in the country for veterans.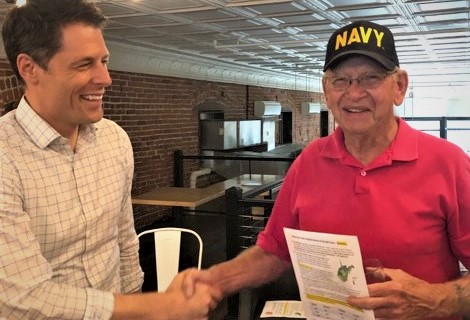 Whose Side We're On
... and more. Click the links above to read stories from the trail.
Our Plan
Prioritize the health of veterans. We will put forward $12 million annually to support innovative projects, programs, and infrastructure that improve the health and well-being of Veterans.

Start by funding and building the past-due  veterans nursing home in Beckley.
Establish the nation's most aggressive state veteran suicide prevention plan--addressing mental health, housing and food insecurity, substance abuse, and other issues--led by and for veterans.
Support Veteran Administration efforts to provide MST (Military Sexual Trauma Treatment) as well as PTSD (Post Traumatic Stress Disorder) treatment.

Institute a $250 annual "Honoring the Sacrifice" tax credit for every West Virginia veteran to help alleviate financial strain for veterans and their families. Also, update our laws to recognize those who have served significant time in the National Guard as veterans for tax and other purposes.
Provide a state GI Bill for West Virginia veterans and their families, including for current or former members of the Reserve and National Guard, that provides a $1000 stipend to help them cover the costs of higher ed, including vocational or trade school. This stipend can be combined with any additional educational waivers, grants, and services they may qualify for, including tuition in our forthcoming "Higher Education for All" plan.

All veterans with documented wartime service, as well as spouses and children of veterans with wartime service, will receive the living stipend to help pay for books and other expenses.
All Purple Heart recipients, their spouses or widows, and their children and grandchildren (whether the Purple Heart recipient is living or deceased) will receive the same stipend.
All Gold Star parents, siblings, and nieces/nephews of fallen servicemen without children will receive the same stipend.
All veterans (with an honorable, medical, or under-honorable-conditions discharge) without wartime service, as well as their spouses and children, shall receive a stipend of half that amount.

Partner with the newly-formed Political Corruption Division of the State Police (see forthcoming plan) to investigate and hold VA hospitals and veterans services accountable for inefficient or criminal behavior.
Honor veterans at the Capitol.

Any Veteran or Gold Star Family member with a state-issued license plate designating veteran service of any kind will never be required to pay parking fees when visiting the state Capitol, and will not be charged a fine for not paying parking meter fees at the state Capitol.
Fund and award the WV Distinguished Service Medal to all WV Purple Heart recipients, and also fund and update the current veterans service medals laws (including service cross and lapel pin) to assure they are all manufactured and awarded in an appropriate manner.

Ensure veterans and their families have a real voice in policy-making, and require that our legislators spend time addressing their concerns every year. Appoint the state commander or their representative from each of the 19 legally established veterans service organization (VSO)  to the Governors Veterans Council and give each a vote. These positions will be in addition to the multiyear legislatively-approved appointees. Two representatives from the Veterans Council will be selected to serve in a compensated position, offering the perspective of veterans on bills that come before the legislature. One day each legislative session will be designated specifically to address issues faced by military families; meetings on other subjects will not be permitted that day. Additionally, one day each week of session will be reserved for military families and citizens, with lobbyists not permitted on Capitol grounds that day.
Create a jobs promise for veterans. Prefer hiring veterans in our plan creating tens of thousands of middle-class jobs over the next decade in fields of agriculture, law enforcement, broadband, water, cannabis, and small business. See forthcoming Mountaineer Service Corps proposal, our Legalize Cannabis plan, Family Farms plan, and other plans for full details. 
End homelessness among veterans. Approximately 134 WV veterans are homeless. See full details in forthcoming plan to End Homelessness in WV.
How We Pay For It
Total cost: $47.2 million annually, which will come from some of the revenue generated by our forthcoming Homestead Act.
Beckley Veterans Nursing Home and future projects and infrastructure for veterans - $12 million
Tax Credit: $32.7 million (estimating that 90 percent of veterans take advantage of it)
State GI Bill stipend: $2.5 million (estimating roughly 2500 students per year, at roughly $1000 per person)
Thank you for reading this plan. It is one of our 30+ policy plans being released between now and April 2020. Thousands of us West Virginians wrote this platform at 136 Town Halls, in 550 additional visits to small businesses, recovery programs, churches, union halls, and homes. We wrote this platform in more than 10,000 conversations--voter-to-voter, face-to-face. We wrote this platform in county team meetings and constituency team meetings. This platform quite literally contains the words and stories of thousands of West Virginians. Every dollar in this plan is accounted for. But we won't win just because the math adds up. We'll have to do what our grandparents did before us, and fight for the West Virginia we deserve. The harder we fight, the more we will win. Wealthy Good Old Boy politicians in Charleston will say these plans are impossible. It's up to us to change what is possible. West Virginia Can't Wait.

Here are three ways you can take action right now.
Share this plan on Facebook and on Twitter by clicking these links.

Set up a call with our candidate for Governor, Stephen Smith, to share your feedback or find a volunteer role in our campaign.
We've raised more small donations than all of the 2016 Democratic candidates for Governor combined. This movement is fueled by people-sized donations. We don't take corporate cash.
We have County Captains, Constituency Captains and Candidates running with us in every corner of the state. It will take 1,000 leaders not 1 to win a West Virginia that works for all of us.