What WV Can't Wait For

For our safety, and for our economy, we will ensure that our transportation system works for everyone--drivers, workers, businesses, families--no matter who you are.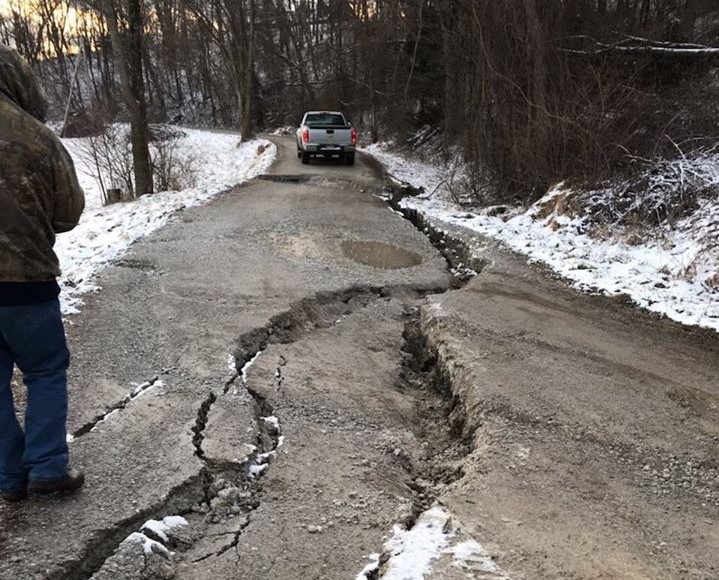 Whose Side We're On
... and more. Click the links above to read stories from the trail.
What We're Up Against
Every day, we ask West Virginia voters what they would do if they were Governor. The number one answer is to end election buying and corruption in our state government.
Number two? "Fix the roads." 
Like most government agencies, the WV Division of Highways (DOH) has stopped working for us. Politicians steer contracts to their friends and wealthy neighborhoods get served, but the rest of us have a hard time getting to work. Worse yet, bad roads risk lives. Accidents are up overall. And police, fire, and EMS workers have shown us the rising vehicle maintenance costs for their fleets. Every school day, bus drivers are winding past slips and slides in order to get our kids safely to and from school.
It doesn't have to be this way.
In order to fix the DOH, we have to follow the money. A starting highway worker in West Virginia still makes $22,000. Hundreds of union highway workers have signed on to a grievance with the state; simply asking to be paid the wages they were promised in a 2017 bill that passed the legislature. Is it any wonder that we now have roughly 1,000 fewer highway workers than we did 10 years ago?
This is not a coincidence. This is a strategy. Good Old Boy politicians keeps wages low, so that experienced workers quit, which means that less maintenance work gets done, and more jobs get farmed out to contractors who are less accountable and more costly.
The people with the least--first responders, working class folks getting to work, local governments struggling with budget issues, school bus drivers--bear the greatest burden with higher DMV fees and gas taxes that don't cover the damage done by the trucks. The people with the most--political elites, gas company shareholders, wealthy contractors--bear the least.
We, the people, have to instill some fairness and  common sense.
Our Plan
Shift decision-making power from political appointees in Charleston to engineers and local leaders. We will work with each of the 10 district "Organizations, Units, Designers, and County Shops" to establish new quotas, per district. We will reconstitute the State Highway Commission, so that district engineers have a central body to manage the state's roads plan. 
Update the funding formula, road construction priorities, and maintenance plan --and stick to them. As the saying goes, "an ounce of prevention is worth a pound of cure," and nothing is more true about the roads: the longer we defer maintenance, the more it costs to fix in the end. The political Good Old Boys in office waste money everyday because they are reacting to crises instead of preventing them. The roads funding formula was written more than 20 years ago, and it does not reflect the current population or needs of the state. We already have a Highway Operations Core Maintenance Plan issued in 2010, which outlines the patching (at least once per year), clearing (one to three times per year), ditching (at least once every three years), and other maintenance work required to protect our roads from further damage. But because of mismanagement and an under-funded, under-paid workforce, the work isn't getting done. Additionally, WV currently has 2000+ slides in the state and backlogged bridge work--without direction for tackling it. Our plan includes decentralized, responsive, expert local leadership, to create updated funding, construction and maintenance plans. But we also need a workforce that can implement this plan.
Return to the days when accountable, middle class, union workers are doing the work. Over the last decade, the state has depressed wages, cut jobs, and shifted more work to slower, costlier, less accountable contractors. It is time to return to a system where we are preferencing maintenance, doing more work in-house, spending less on renting equipment it would be cheaper to buy, and paying union workers a decent wage. Highway workers should make a minimum of $15/hour starting salary, and have a competitive pay scale and tenure program in line with the schedule proposed by the UE Local 170 workers and passed by the legislature--but never implemented. We must also reinstate the prevailing wage, and ensure civil service protections to guard the wages and benefits of all workers and to ensure the quality of all work. We can take the same money we are spending now, but make it go further. Studies have shown that by investing in good, accountable, in-house labor, we can save time and money in the short-run and the long-run.
Pass a Wealth Tax to stimulate road work now, and close the funding gap long-term. For decades we have underfunded our infrastructure, and the middle class has suffered for it. This is the wealthiest time in West Virginia history but that wealth does not stay in our pocketbooks, schools, or roads. We have to stop funding our roads with new, regressive taxes and fees. Part of our platform is a half-penny wealth tax on West Virginians with more than $2 million in assets--roughly one-fourth of those funds (~$200 million) will go toward road work to start closing the gap.
Keep getting smarter. The proposals above will help us get back on track, but we also want to excel. The following proposals can help ensure that we are constantly improving and holding this system accountable:

Police the corruption. We need a Political Corruption Unit within the State Police, which would boast 50 experienced officers and detectives. This unit would investigate all manner of political corruption, including the politics of roads construction and contracting. (See forthcoming Police Political Corruption and Corporate Crime plan for more details.)
Tax the trucks. Large trucks do a disproportionate amount of damage--one large truck does the same damage as about 9,600 cars; these trucks do nearly all non-weather-related damage--and should therefore pay for the damage they do. Where the damage is caused by resource extraction, the revenue would stay in counties where the work is done and the trucks are concentrated.
Incentivize speed, by involving the public. Other municipalities have created an app (CITE), so that residents can identify problems, report them, and track repair progress. Districts that quickly resolve their complaints will receive earlier access to capital to rebuild crumbling bridges and other infrastructure projects. The state has begun to experiment with this idea (SWAT), but the program has been too flawed and the state too unresponsive to make it work. We also support efforts by cities and counties to extend "Home Rule" to make simple and emergency road repairs--using their own funds, equipment, and staff--on roads within their jurisdiction which are generally under the control or WVDOH.
Seed an industrial road bank to better incentivize long-term roads projects. This would eventually be part of a Public Bank of West Virginia.

Start a state-level Office of Public Transportation that is responsible for coordinating state, county, and local efforts to improve public transportation. This could include a wide range of different efforts:

Feasibility studies and federal grant writing around major infrastructure programs that increase access to transportation for people and goods: trains, bus lines, the Hyperloop, etc.  
Support local cities and counties that wish to move toward improving bike lanes/trails and walkability. 
Establish a permanent funding solution for the MARC train.
Support local coordination of ride services and volunteer carpools in county, to assist people with disabilities and seniors (in partnership with the Mountaineer Service Corps and service agencies), and expand transportation access to Medicaid patients.
The Office of Public Transportation will start with a $2 million annual budget, and grow based on their ability to secure partnerships, grant dollars, and capital.
How We Pay For It
To fix the roads we will never increase tolls or gas taxes for everyday drivers, who already bear too much of the burden mending tires and dodging dangerous slides.
Instead, we will raise $200 million in new revenue for road construction and maintenance (and any new administrative fees) from our Half-Penny wealth tax, which asks people in West Virginia with more than $2 million in non-residential assets to chip in one half of one penny of every dollar of their wealth above $2 million.
Over time, we also support the institution of a new state Heavy Highway Vehicle Use Tax (HVUT) on large trucks to bring in additional revenue, and transition us to a more accurate Vehicle Miles Traveled (VMT) tax on heavy trucks instead, with the goal of reconciling the backlog of deferred maintenance, and shifting costs to the companies doing the damage. This new, state HVUT will be levied on out-of-state companies using or contracting heavy trucks in WV, not on hard-working WV truck drivers or in-state companies under contract to out-of-state corporations.
The people of our state have been nickel-and-dimed to death. We can do better work, and we can do it cheaper by returning to a system where more of our roads work was done in-house, by well-paid working people with experience, and we can also cover the long-promised DOH employee raises.
We will also shift spending to reduce future maintenance costs. De-paving some low-volume asphalt roads (roads with annual average daily traffic [AADT] of only a handful of vehicles) will save significant money and--with properly maintained roads--will be easier on drivers and cars. It can be more than five times more expensive to patch a low-volume road than to convert it to gravel, and future maintenance costs can be cut in half, too.
In the wealthiest era in West Virginia history, we WILL have decent roads--if we fight for them.
Thank you for reading this plan. It is one of our 30+ policy plans being released between now and April 2020. Thousands of us West Virginians wrote this platform at 136 Town Halls, in 550 additional visits to small businesses, recovery programs, churches, union halls, and homes. We wrote this platform in more than 10,000 conversations--voter-to-voter, face-to-face. We wrote this platform in county team meetings and constituency team meetings. This platform quite literally contains the words and stories of thousands of West Virginians. Every dollar in this plan is accounted for. But we won't win just because the math adds up. We'll have to do what our grandparents did before us, and fight for the West Virginia we deserve. The harder we fight, the more we will win. Wealthy Good Old Boy politicians in Charleston will say these plans are impossible. It's up to us to change what is possible. West Virginia Can't Wait.

Here are three ways you can take action right now.
Share this plan on Facebook and on Twitter by clicking these links.

Set up a call with our candidate for Governor, Stephen Smith, to share your feedback or find a volunteer role in our campaign.
We've raised more small donations than all of the 2016 Democratic candidates for Governor combined. This movement is fueled by people-sized donations. We don't take corporate cash.
We have County Captains, Constituency Captains and Candidates running with us in every corner of the state. It will take 1,000 leaders not 1 to win a West Virginia that works for all of us.