Fight Discrimination and Racism
What WV Can't Wait For

Every person in our state deserves equal protection under the law and fair representation in government. Government will work best when the people who work the hardest and bear the most are also the ones writing the laws.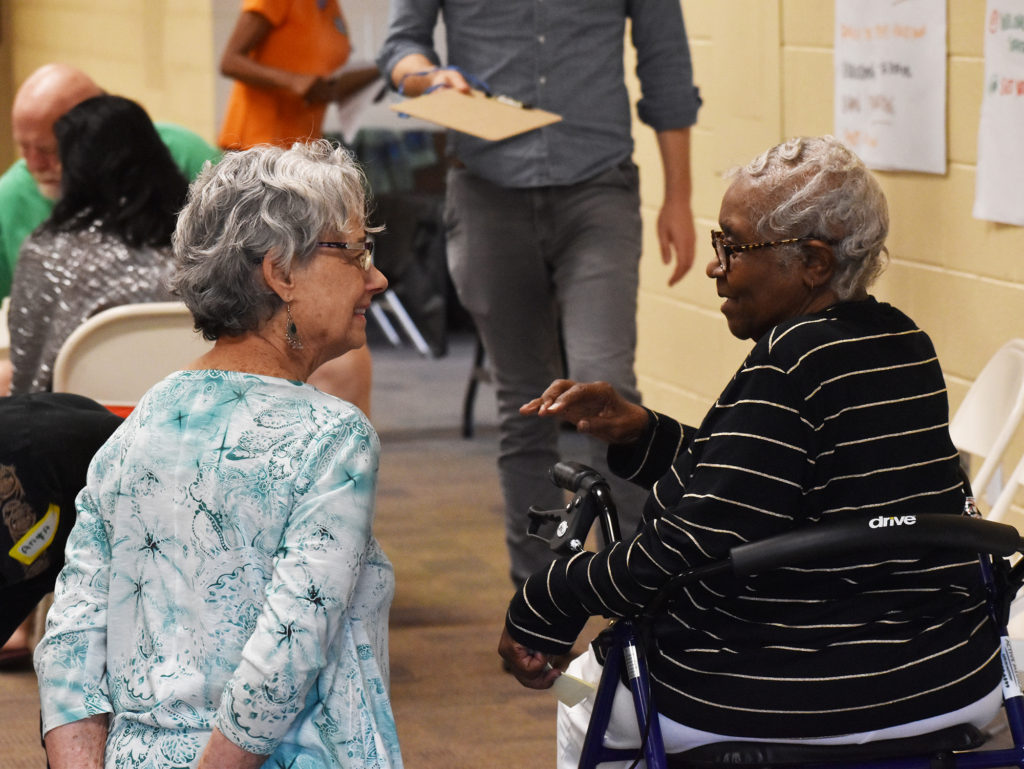 Whose Side We're On
... and more. Click the links above to read stories from the trail.
What We're Up Against
When we fight each other, we lose. When we fight for each other, we win. 
Take a look at our history books: coal companies used to keep mine camps segregated in our state. The operators knew that if white miners mistrusted immigrant and Black miners, instead of the operators who were stealing everyone's labor and lives, the operators could keep the company town system churning out profits for themselves.
Those operators knew our division was their victory. We must not let the Good Old Boys divide us. Not in this moment. Not in the next.
Fighting discrimination against any person is good for all people.
Our ancestors who fought in the Mine Wars knew this. Mineworkers--Black, white, and immigrant--marched on Blair Mountain against company rule. They knew there is nothing more powerful than when poor and working people unite. 
State government is duty-bound to protect all citizens against persecution. But those who run our government now are too busy profiting off of discrimination to end it. We see it in our daily lives.
Blacks are just as likely to use and distribute drugs as whites, but six times as likely to go to prison. Your neighbor with disabilities is getting paid less for working the same job as you; he's also paying more for public transportation. It is still legal in our state to fire someone, or deny them housing, because of whom they love. One of our elected officials joked about killing his kids if he learned they were gay. Women's work is devalued; their heath care is legislated. A photo just surfaced of state employees, who have pledged to serve us, making a nazi salute. Thousands of us have watched a tiny Black woman being pummeled by the police officers meant to protect her. Then we watched their Police chief arguing that those same officers would have been justified going even farther.
It does not have to be this way. 
Our campaign proudly boasts more than 39 constituency teams--People with Disabilities Can't Wait, Veterans Can't Wait, Seniors Can't Wait, African-Americans Can't Wait, LGBTQ+ Can't Wait--so that all people are directly represented in our campaign strategy and policy platform. The document you are reading now includes the words of hundreds of these West Virginans, vetted in Town Halls, "platform parties," research memos, and constituency meetings. That is also how we will govern--with the people who bear the most and work the hardest also writing the laws. The people who are closest to a problem often know best how to fix it. 
To win justice on any front, we must fight for justice on all fronts. 
Our Plan
Root out racism and discrimination in the criminal justice system, school system and workplace.

Research tells us that Americans commit crimes at roughly the same rate--rich or poor, Black or white. But Black folks are 10 times more likely to go to prison. In fact, "you're much better off in our justice system if you're rich and guilty than if you're poor and innocent." All state courthouses and police stations will be required to track rates of arrest, prosecution, conviction, and incarceration, by race. Jurisdictions that demonstrate persistent bias will be given technical assistance to reverse those trends, and lose access to state funding if they fail to address it.
All schools will be required to track rates of discipline, suspension, bullying, and preferential treatment, across various demographics. Jurisdictions that demonstrate persistent bias will be given technical assistance to reverse those trends, and may lose access to state funding if they fail to address it.
All state offices will be required to track hiring rates across various demographics. Agencies that demonstrate persistent bias will be given technical assistance to reverse those trends, and will lose access to state funding if they fail to address it.

Fight to make West Virginia the best place in America to live and work--no matter your sexuality, your ability, your faith, your class, or your gender.

Pass the strongest Employment & Housing Non-Discrimination Act (EHNDA) in America. Basic protections for LGBTQ+ West Virginians are long overdue and should extend to employment, housing, health insurance (including banning providers from refusing coverage based on gender), credit/lending, survivorship, foster care and second parent adoption, anti-bullying protections, state ID designations and family leave. No worker should be able to claim a religious exemption for providing core job functions to someone based on their gender or sexual orientation. We will also ban conversion therapy, pass hate crime protections that include restorative justice models, end "panic defense," and more.
Pass the strongest Equal Pay, Menstrual Equity, Pregnancy Protection, Family Leave, and Earned Sick Days legislation in the country. Expand access to reproductive health care for women, to more rural areas. (See our Workers Bill of Rights, Cut Healthcare Costs plan, and other policy plans--which also center our goal to achieve gender equality.)
End the practice of discriminatory transportation pricing and discriminatory wage laws for people with disabilities. See our Freedom for People with Disabilities plan.
Pass our Workers Bill of Rights and Small Business Revolution, to ensure that we have an economy that no longer discriminates against local workers and entrepreneurs.
Ensure protections for immigrants, refugees, and indigenous people.

Celebrate West Virginia. We will support efforts to create public art and history exhibits, and museums (see our upcoming plan) that tell stories that are often neglected in our public museums, and at the Capitol. West Virginia has a proud history of racial justice, union solidarity, women's rights and other leadership, but that history is undertold.
Curb corruption. Too often, the criminal justice system has been used to perpetuate inequality. We must shift the focus of the criminal justice system from targeting the people who are in pain, to targeting the people who profit off that pain. We will open two crucial new investigative divisions in the State Police--a Corporate Crime Division and a Political Corruption Division. Each of these divisions will have agents focused on investigating corporate and political discrimination. (See forthcoming plan to police white collar crime.)
Establish a $10 million Civil Rights Fund to advance the interests of under-represented communities in West Virginia, investing in initiatives led and directed by marginalized groups.
Establish an Office of Representation, with real power in state government. In addition to the policies outlined above, this office will also seek to make government more representative at every level. (See our upcoming plan to end election buying and our plan for real democracy for examples of how we can vastly increase representation in government for all people--especially those who have been marginalized.) We aim to have the most representative state government in the country--across race, gender, religion, sexual orientation, disability, and class. An Office of Representation would:

run a policy shop that will continue to make recommendations for how West Virginia could build and then maintain a reputation for being the most welcoming state in the country;
control the above policy directions,
be responsible for researching/tracking/naming discrimination in government;
manage the selection of Taxpayer Councils (which are, in turn, responsible for setting the leadership and policy priorities of each Executive Branch agency);
and vet all political appointments ensuring representation of under-represented people (including judges, the Public Employees Grievance Board, Parole Board, etc.).

Establish a West Virginia Truth and Reconciliation Commission. For hundreds of years, Black West Virginians have been robbed of land, fair pay, credit, housing, and freedom, usually with the aid of local, state, and federal governments. No one has paid for these crimes. The legacy of racism in America is pernicious and persistent. In partnership with the Office of Representation, a WV Truth and Reconciliation Commission would have the responsibility to propose on-going remedies for that racism, in addition to the remedies recommended above. This would include, but not be limited to 1) earmarked access to business and land grants, including the cannabis industry (see upcoming Homestead and Cannabis plans), with the goal of raising minority and Black businesses 5%, 2) increased financial support to attend the state's historically black colleges, and 3) equitable resources given to families affected by the crack epidemic and opioid crisis.
How We Pay For It
Many policies on this list require legal changes, not new allocations.
We will allocate $20 million total: $10 million to cover the administration of the Office of Representation and the WV Truth and Reconciliation Commission, and $10 million to be allocated to the Civil Rights Fund itself.
These costs will be paid for by a percentage of new revenue from full cannabis legalization (see upcoming plan).
Thank you for reading this plan. It is one of our 30+ policy plans being released between now and April 2020. Thousands of us West Virginians wrote this platform at 136 Town Halls, in 550 additional visits to small businesses, recovery programs, churches, union halls, and homes. We wrote this platform in more than 10,000 conversations--voter-to-voter, face-to-face. We wrote this platform in county team meetings and constituency team meetings. This platform quite literally contains the words and stories of thousands of West Virginians. Every dollar in this plan is accounted for. But we won't win just because the math adds up. We'll have to do what our grandparents did before us, and fight for the West Virginia we deserve. The harder we fight, the more we will win. Wealthy Good Old Boy politicians in Charleston will say these plans are impossible. It's up to us to change what is possible. West Virginia Can't Wait.
Here are three ways you can take action right now.
Share this plan on Facebook and on Twitter by clicking these links.

Set up a call with our candidate for Governor, Stephen Smith, to share your feedback or find a volunteer role in our campaign.
We've raised more small donations than all of the 2016 Democratic candidates for Governor combined. This movement is fueled by people-sized donations. We don't take corporate cash.
We have County Captains, Constituency Captains and Candidates running with us in every corner of the state. It will take 1,000 leaders not 1 to win a West Virginia that works for all of us.