Freedom for People with Disabilities
What WV Can't Wait For

We cannot and will not allow any of us to be treated like second class citizens. Not only must state government protect the lives and civil liberties of West Virginians with disabilities and our families, but people with disabilities must also be a part of leadership at every level of our government to protect against future neglect and discrimination.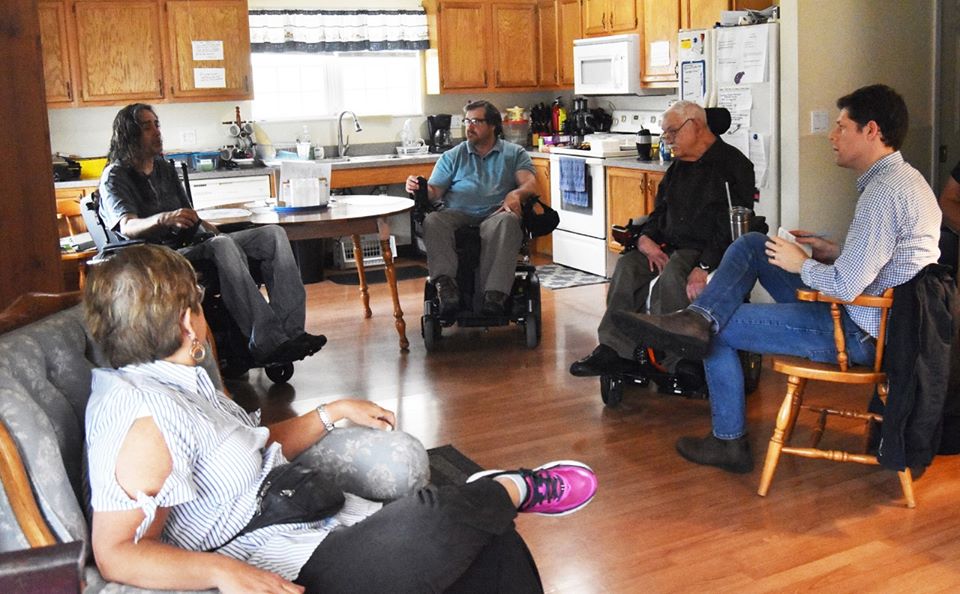 Whose Side We're On
... and more. Click the links above to read stories from the trail.
What We're Up Against
Death by waiting list.
The waiting list for people with disabilities to get an IDD (Intellectual/Developmental Disability) waiver from the state has more than a thousand people on it. In a state that can take upwards of 8-9 years for someone to be approved, it's not uncommon for people to die waiting.
"We don't need people to tell us what we need. We know everything we need to know. It's happening to us," said Delmar, one of the first people we met on the campaign trail. 
The waiting list is one thing. The indignities West Virginans face is another. 
Federal law promises people with disabilities the opportunity to live in the least restrictive, most integrated setting available. But the Charleston's Good Old Boys Club ignores this directive. In short, they get away with treating people with disabilities as less than human.
And that's a lot of us. Adults with disabilities in West Virginia make up 39.2% of the state. With a rapidly aging population, the number of people with disabilities is anticipated to grow significantly in the coming decade. 
People with disabilities can be paid a lower minimum wage than people without disabilities. More than 31% of people with disabilities nationally struggle with mobility, and those reliant on paratransit can be charged double fare. Home and Community Based Services are preferable and less expensive for people with disabilities; yet institutional placements are given preferential treatment in West Virginia because they are more profitable for providers.
How did we get in this mess? Over and over, the interests of people with disabilities are trumped by the political interests of those in power. 
"Mountaineers Are Always Free" reads the West Virginia State Seal, yet for many in our state, the pursuit of life, liberty, financial security, happiness, and safety are limited by archaic policies and unfair and discriminatory practices. West Virginians with disabilities--all 39.2% of us-- deserve fair employment, transportation, and housing. It's time that West Virginians with disabilities and our families are granted the same rights and freedoms that all of us enjoy. 
Our Plan
Equality in employment

End sub-minimum wage policies for people with disabilities.
Become an Employment First state, and start the nation's most ambitious Jobs Program for people with disabilities (for details see upcoming Jobs plan). Fund up to 1,000 tax incentives annually for locally-owned, small businesses to hire People With Disabilities. This could go towards, or work in partnership with, any of the following:

Support person-centered planning for employment, and assistance with customized employment and self-employment.
Employ people with disabilities in integrated employment environments at comparable wages in state government positions; allow state-based institutions to provide flexible work environments for people with disabilities.
Use Medicaid funds to help individuals with disabilities find work in integrated employment environments at comparable wages.
Fund short-term workforce programs, such as apprenticeships and internships, for people with disabilities.
Create 55 positions made available to county governments interested in creating a disability access coordinator, and commission, for their counties.

Equality in transportation

Improve transportation options.

Explore grant opportunities and other systems for improving infrastructure.
Work with local communities and counties to develop transportation subsidy programs.
Support local efforts to institute non-emergency Medicaid transportation programs for people with disabilities to get to work.

Equality in Housing

Shift funding over time to build and sustain enough Centers for Independent Living (CILs) to meet demand statewide. This must include bringing CIL's to the Eastern Panhandle and Northern Panhandle. This funding would be paid for through savings from more expensive institutional placements. CILs can provide services that help people with disabilities in their own homes in a timely manner (like home modifications, bathroom modifications, vehicle modifications, ramps, lifts, etc.).
Revise housing policies for state agencies to remove obstacles to independent living.
End the practice of citizens being directed by the state to share their home with another person. Currently the state is requiring individuals receiving Waiver services to have a roommate so that one personal attendant may care for more than one person at the same time. Even if you own your own home, you can be forced to take on a roommate.

Equality in governance and representation

Increase voting options to include vote-by-mail, and other accommodations to make voting more accessible to people with disabilities.
Require live-streaming of public meetings.
Ensure that every public building is ADA compliant.
In partnership with the Office of Representation, establish a Statewide Disabilities Council inside state government that ensures that people with disabilities are represented throughout the executive branch of government. This Council would draw from existing organizations and communities and would:

Ensure the full implementation of the Olmstead Act and the State Olmstead Plan as approved in 2005; all people with disabilities should have access to integrated services and programs.
Provide direct oversight of government disability programs.
Investigate reports of discrimination, abuse, and harassment.
Encourage government representation by people with disabilities.
Require training and oversight of person-centered care so that department staff and providers ensure clients are included in discussions about their own life rather than being told what they will do and get.
Regularly review the Waiver program and revise the manual to improve services and supports focused on quality of life.
Ensure that children with disabilities, and their parents, are well-represented and served in the public education system.
Partner with the Mountaineer Service Corps and Senior Corps to ensure recreational activities and opportunities for people with disabilities in each county.

Equality in care, community support, and quality of life

Commit to clearing the IDD Waiver Wait List immediately.
End cuts to the Age and Disabled Waiver program. 
Eliminate drastic 2015 cuts and budget caps to Waiver budgets.
Close the 2013 loopholes, so that self-funded insurance plans can no longer dodge providing services to children on the Autism spectrum.
Update budget guidelines (units) to reflect cost-of-living and economic factors.
Empower Community Support program participants to make informed decisions about their care and long-term planning.
Advocate for the use of alternatives to guardianship, such as limited guardianship and supported decision-making for people with developmental disabilities, including training for appointed counsel, mental hygiene commissioners, and judges on the necessity to pursue the least restrictive alternatives.

Include people with disabilities in every aspect of this Platform


Caregivers (including therapists) will be eligible for Take Me Home loan forgiveness.
The Broadband Plan will improve work-from-home and entrepreneurial opportunities.
Efforts to create Centers for Excellence in technical colleges and universities will help grow the caregiver workforce; a $15 minimum wage will also encourage more people to enter the field of caregiving and directly benefit working people with disabilities.
Our Small Business Revolution plan could increase access to therapy centers and Waiver agencies.

Fund the above programs by shifting medical expenses from Medicaid to Medicare, for people with disabilities who are classified in error. Medicaid is meant to be the payer of last resort. By identifying and eliminating the medical expenses billed in error from the Medicaid program and billing those medical services appropriately to the Medicare program, West Virginia can save $40 million per year in discretionary budgeted funds for use toward other programs that benefit its citizens. In addition, people with disabilities qualify for additional monthly SSDI funds that increase their overall monthly income for use toward their day to day care--plus those people now have expanded medical coverage via dual Medicare/Medicaid benefits. This initiative has been implemented in Ohio; estimates are based on achieving similar success in West Virginia.

How We Pay For It
Some policies on this list require legal changes, not new allocations.
The initial clearing of the IDD Waiver list can be accomplished with existing Medicaid surplus. We will generate $40 million in savings by shifting people to more federal dollars--as has been implemented in Ohio.
Those savings will be used to help restore waiver benefits and provide a higher reimbursement rate for caregivers to match a $15 minimum wage (roughly $10 million per year) and to provide $20 million in tax incentives for our (to-be-released) Jobs Program, including 55 county disability commissions.
Remaining funds will be allocated to the Disability Council to incentivize infrastructure improvements, the opening of Centers for Independent Living, transportation infrastructure, conduct leadership training, and fight for local government representation.
Thank you for reading this plan. It is one of our 30+ policy plans being released between now and April 2020. Thousands of us West Virginians wrote this platform at 136 Town Halls, in 550 additional visits to small businesses, recovery programs, churches, union halls, and homes. We wrote this platform in more than 10,000 conversations--voter-to-voter, face-to-face. We wrote this platform in county team meetings and constituency team meetings. This platform quite literally contains the words and stories of thousands of West Virginians. Every dollar in this plan is accounted for. But we won't win just because the math adds up. We'll have to do what our grandparents did before us, and fight for the West Virginia we deserve. The harder we fight, the more we will win. Wealthy Good Old Boy politicians in Charleston will say these plans are impossible. It's up to us to change what is possible. West Virginia Can't Wait.
Here are three ways you can take action right now.
Share this plan on Facebook and on Twitter by clicking these links.

Set up a call with our candidate for Governor, Stephen Smith, to share your feedback or find a volunteer role in our campaign.
We've raised more small donations than all of the 2016 Democratic candidates for Governor combined. This movement is fueled by people-sized donations. We don't take corporate cash.
We have County Captains, Constituency Captains and Candidates running with us in every corner of the state. It will take 1,000 leaders not 1 to win a West Virginia that works for all of us.