How to be a WV Can't Wait Candidate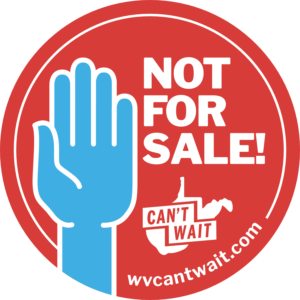 For too long West Virginians have been asked to vote for the lesser of two evils. No more: the only way we'll get the kind of government we deserve–one that chooses the side of West Virginians over out of state interests–is if we take it. We are calling on every candidate to stand on the side of West Virginians who work the hardest and bear the most—every time.
More than 100 WV Can't Wait candidates ran in the 2020 primary, and more than 50 WV Can't Wait candidates ran in the 2020 general election.
West Virginians from every race, region, religion, and party came together to put our time and money behind these candidates—and the first slate has been seated.
The WV Can't Wait Candidate
Pledge
We won't take Corporate Cash–we promise to run a people-funded campaign and not to take a penny from Corporate PACs or executives from Big Pharma, Big Energy, or Out-of-State Land Companies.
We will never cross a picket line–we will always choose the side of the people who are working the hardest and bearing the greatest burdens.
We will never hide from a debate–we promise to meet with the public at least once a month, and to do the work of being available to our constituents.
We will never punch down–we promise to remember that our fight is with the wealthy Good Old Boys Club and not with each other. We promise never to blame those who have been hurt for their pain.
Sign the WV Can't Wait Pledge
Want to receive the full backing of the WV Can't Wait movement? Email katey@wvcantwait.com to learn how you can be listed on the website, gain volunteer support, receive candidate training and more! Make sure to tell us your name, contact information, and what office you are seeking.
Want a candidate to sign the pledge? Ask them to pledge to refuse corporate PAC money and email katey@wvcantwait.com for info about how to sign.
This pledge is not an endorsement. It's a way for candidates to publicly commit to running a campaign on the side of West Virginians–not out-of-state landowners, monopolies, and big banks.