What WV Can't Wait For

We'll build a government in West Virginia where every senior citizen has a life of dignity, respect, health, community, and power.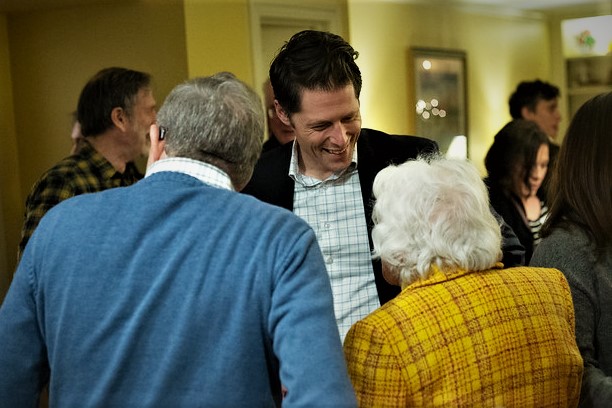 Whose Side We're On
... and more. Click the links above to read stories from the trail.
What We're Up Against
West Virginia has the second highest rate of people over the age of 65 in the country, and nearly half have a disability, while roughly a third rely on social security as their only income source.
But in the words of one of our Seniors Can't Wait Captains: "We are not: cute, useless, powerless, senile, conveniences, or decorative. We are: experienced, smart, independent, involved, and well aware of what others think of us old folk."
Yet there are no shortages of challenges facing seniors in West Virginia:
Lack of transportation
Economic insecurity
Food insecurity
Lack of affordable, safe housing
Lack of access to affordable healthcare, including mental health care
Too many seniors are isolated, removed from friends, family, and community.
No one knows the problems seniors face like they do, so no one will be more effective at solving these issues than seniors.
Here's our plan, written by and for seniors.
Our Plan
Immediately implement full Social Security Income tax relief for 2020 income, without the 65% intermediate step called for in the current plan.
Cut healthcare costs and expand access for seniors. We'll partner with free health clinics and

Federally Qualified Health Center

s (FQHCs) to expand mobile health units and care hubs so seniors in rural locations have better access. See also our full plan to cut healthcare costs in West Virginia, which includes initiatives like insulin price caps, and the expansion of telehealth.
Ensure the safety of seniors in nursing homes by establishing a Taxpayers Council led by patients, workers, and families to monitor and improve the health and safety of nursing home residents. Additionally, as per our Workers Bill of Rights:

Pass safe staffing regulations, end mandated overtime (except for emergencies), and engage nurses and CNAs in efforts to reduce paperwork and streamline regulations--so they can spend more time caring for patients, and less time pleasing bureaucrats. 
Increase the minimum wage to $15/hour and implement paid sick days, equal pay, and family leave. This will not only provide better pay to seniors who wish to work, but will also protect people working in industries that serve seniors, as well as attract new people to caregiving industries.

Foster affordable, independent living and in-home care for seniors through several models including  virtual retirement communities, the "village" model, community-based living centers, and other intentional communities that empower seniors to maintain independent living in their own communities. See also the Homestead Act, and the forthcoming End Homelessness plan. Seniors in the Taxpayers Council will determine how to allocate the funds invested here.
Protect locally-owned health providers, in-home care providers, and other senior service providers from unaccountable, out-of-state companies through our (forthcoming plan) to Prosecute Corporate Criminals.
Support the passage of laws that give seniors more power over their end-of-life decisions.
Work with 311 officials to expand the 311 line to a more comprehensive help line that will improve the lives of seniors by providing access to community support.
As part of a new Mountaineer Service Corps, form a Mountaineer Senior Corps of 250 senior citizens to serve as advocates, organizers, and community leaders, because no one knows better how to address the problems of seniors than seniors. Each Senior Corps employee will receive in-depth leadership training, and a union job with a living wage and benefits. Some of the issues these seniors will take on in their communities include the following:

Connecting seniors with federal and state services that benefit them such as the Low-Income Home Energy Assistance Program (LIHEAP), the Supplemental Nutrition Assistance Program (SNAP), and other senior nutrition programs.
Expanding access to state and local senior programs by providing transportation services for other seniors who need transportation assistance. All seniors will have safe transportation to basic services like groceries, doctor/dentist appointments, and banking, as well as pet care, wellness activities, health screenings, exercise, libraries, community gardens, and voting locations.
Mentoring young apprentices in trades such as carpentry, auto repair, electric, plumbing, and more to help seniors access needed repairs and house maintenance--including improvements like

bath safety modifications

--while also providing hands-on training for apprentices by Mountaineer Senior Corps members with experience in those areas.
Facilitating civic engagement programs that put local elected officials in direct contact with senior citizens, and hold public forums about issues affecting seniors.
Partnering with state and community colleges to

Advise on designing specialized training programs at public colleges that focus specifically on issues faced by the aging population, in fields like social work, counseling, medicine, and psychology.
Allow senior citizens to audit classes for free.

Expanding community-based mental health support systems and resources for seniors with a focus on training and support for issues of isolation or suicidal ideation, and connecting seniors with volunteer and service opportunities within their communities to help foster a sense of connection and worth. 
Creating intergenerational senior and child care centers, because "participation in intergenerational programs and meaningful cross-age relationships may decrease social isolation and increase older adults' sense of belonging, self-esteem, and well-being, while also improving social and emotional skills of children and youth participants."
How We Pay For It
Costs:
Total: $35 million from the forthcoming Prosecute Corporate Criminals plan
$10 million for strategic investments in transportation, 311 services
$8 million invested in independent living, senior centers
$9 million goes to senior nutrition and food delivery
$8 million, investing in intergenerational centers
Mountaineer Senior Corps jobs are paid for through the Mountaineer Service Corps plan. Taxpayers Commission on Seniors is paid for through the Government of the People plan. $25.1 million for  implementation of Social Security Income tax relief is already in the budget; however our implementation would be immediate.
Thank you for reading this plan. It is one of our 30+ policy plans being released between now and April 2020. Thousands of us West Virginians wrote this platform at 136 Town Halls, in 550 additional visits to small businesses, recovery programs, churches, union halls, and homes. We wrote this platform in more than 10,000 conversations--voter-to-voter, face-to-face. We wrote this platform in county team meetings and constituency team meetings. This platform quite literally contains the words and stories of thousands of West Virginians. Every dollar in this plan is accounted for. But we won't win just because the math adds up. We'll have to do what our grandparents did before us, and fight for the West Virginia we deserve. The harder we fight, the more we will win. Wealthy Good Old Boy politicians in Charleston will say these plans are impossible. It's up to us to change what is possible. West Virginia Can't Wait.

Here are three ways you can take action right now.
Share this plan on Facebook and on Twitter by clicking these links.

Set up a call with our candidate for Governor, Stephen Smith, to share your feedback or find a volunteer role in our campaign.
We've raised more small donations than all of the 2016 Democratic candidates for Governor combined. This movement is fueled by people-sized donations. We don't take corporate cash.
We have County Captains, Constituency Captains and Candidates running with us in every corner of the state. It will take 1,000 leaders not 1 to win a West Virginia that works for all of us.